The Power of a Triple-Braided Cord
Two people are better off than one, for they can help each other succeed. If one person falls, the other can reach out and help. But someone who falls alone is in real trouble. Likewise, two people lying close together can keep each other warm. But how can one be warm alone? A person standing alone can be attacked and defeated, but two can stand back-to-back and conquer. Three are even better, for a triple-braided cord is not easily broken.
–Ecclesiastes 4:7-12
The Bible speaks to us about the power of relationships.
The most important relationship we can have is one with God. A relationship with Jesus has a greater impact on our life than any other relationship. We cannot have a relationship with God and not be changed for the better.
This is the goal of our programs – to introduce people to God and help them experience his power to overcome their addictions and be free from sin.
But the relationships referenced in these Bible verses are between people. These are called friendships. The power of friendship is also incredibly important.
Friendships can make or break us. We can invest in good friends who support us, develop us, encourage us, grow us and slingshot us into success. We can also invest in unhealthy friendships that drag us down and help Satan hold us in the bondage of our sin.
Many people come to Hope Gospel Mission because they find themselves disconnected from a healthy support system of relationships and have instead become invested in unhealthy friendships, sometimes due to their own choices, sometimes because that is all they know. But once the trials of life rush in, the bills add up, or the rent is due, they have nobody to turn to anymore and become homeless.
That's where we step in.
If the man or woman who comes through our doors is ready to try something different, something that will work, and if they're engaged and committed to creating new, healthy relationships – we know they can make it to graduation and further on to success. If a person is not ready or motivated to change, there is not much we can do until they come to that point.
Once a person starts their journey in our programs, one of our goals is to help them learn how to recognize and develop healthy relationships that can replace their former unhealthy ones. These two things – a person's relationship with God and their desire to build healthy friendships – are the greatest indicators as to whether or not new residents will be successful.
So how do we nudge our residents into healthy, supportive friendships? We do this by having a team of trained professionals purposefully investing into each resident's life and having special advisers that come alongside the residents to encourage and support them.
We also work with the churches our residents attend to help our residents grow into their church families. Each church we work with provides mentors who are each asked to disciple and assist a resident through the programs. Once the resident graduates from our programs, they have a loving, supportive community of friends to be there for them.
The more positive, loving people you surround yourself with, the better. As Ecclesiastes chapter four explains, more "braids in the cord" create a stronger support network for each resident. Relationships are powerful enough to make – or break – a resident's progress in our programs.
Developing good friendships isn't always easy and it always takes time. Please pray for our residents as they get connected to healthy support networks and as they learn to replace unhealthy friendships with healthy ones.
Does your church want to get involved in helping our residents build a healthy community? Contact Bill, our Chaplain, at bill@hopegospelmission.org or call 715-552-5566 Ext. 108.
Around the age of sixteen some events occurred in my life that would challenge my honesty and integrity.
Relationships, as I had known them, changed radically. Trust, faith, and belief in mankind were completely destroyed. Misunderstandings, misuse of power and authority, coupled with disbelief, anger, and rebellion left me to rely on myself. My relationship with Jesus Christ became one-sided. The next thirty-five years of my life could be best described as selfish and self-righteous. I built walls around myself and every necessary relationship. This included wives, children, employers and God; I had become a self-proclaimed agnostic. It was this self-centeredness that turned wives into ex-wives, turned children into "kids," and turned many employers into ex-employers. All of the loss, misery, anger and shame were blame-shifted towards God.
There were countless attempts of recovery made on my part; many of these attempts were required because of a relationship I had unwillingly formed with local, state, and federal authorities. I went to these rehabs with the intentions of completing them just to get everyone off my back. Some of these attempts did produce what society would define as a successful "recovery" since I had attained employment, met all judicial requirements, and in society's eyes was now "rehabilitated."
This all looked wonderful from the outside, but nothing had changed in me and my relationship with God. All the selfish motives were still there. Any accomplishment or success was clearly all my doing – "Hey everybody look at what 'I' did." Not once did God ever receive the praise, the honor, and the glory for all of the good things happening in my life. But God sure was to blame when things would start to fall apart! A job loss, a marriage failure, another brush with the law; these were all punishment from God.
Sometime in my late forties I found I had become consumed with hate, rage, guilt, shame, and remorse and that I was directing all of this darkness straight at myself. Now not only had I turned my back on God and society because of my lack of trust, but I couldn't even trust myself. Depression, suicidal thoughts and behaviors became my way of life. Guilt was trying to convince me too seek out my redeemer and beg forgiveness. I had not forgotten the God of my childhood and the principles, values, and morals taught in God's word.
In 2009 I found myself trying to become a door-to-door salesman just to keep a roof over my head. This type of "cold sales" was not my calling. One foggy morning in Virginia Beach, Virginia just as the sun was rising, sitting at an isolated spot on the beach – I started sincerely praying for the first time in many years. A short time later an elderly gentleman passed by and said good morning, I returned the greeting. Before I knew what was happening, he was telling me how God loves me. This made me consider the nature of my prayer just minutes early. Then the man said something like this:
"Son, the Lord knows your needs. Trust him and continue with the path that you're on and, when you come to the place that he wants you to stop, you'll be shown."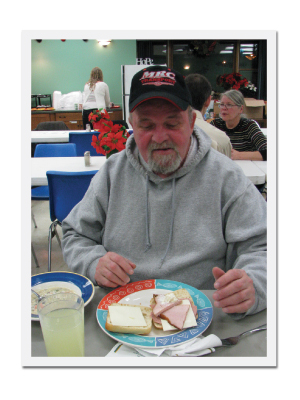 I stood in stunned silence as the man turned to walk away. I was compelled to bow my head and pray. After a brief prayer I looked up, noticing the fog had lifted and that the man was nowhere in sight. I had really wanted to ask him how he knew what I was struggling with!
On July 1, 2009 I was trying to make a sale at a business that I would later find out was called Building Hope. The next day I found, applied for and was accepted in a long-term, life-changing program at Hope Gospel Mission. Healthy relationships where formed within the mission and in a local church. However, I left the mission prior to completing the program and relapsed.
Relationships that had been established were understandably strained because of my actions; yet I found I had been forgiven. With sincere reconciliation to members of the church and to Hope Gospel Mission the renewing of these relationships occurred thanks to God's mercy and grace. Last Spring I was accepted once again at Hope Gospel Mission. I have committed to finish what was started four years ago. My life did need rescuing. Now it can be rebuilt. With God's amazing grace my sins are forgiven and my life is being renewed.
1 Thessalonians 5:11 says, "So encourage each other and build each other up, just as you are already doing."
Please pray for Brad and our other residents who are doing the hard work of rebuilding their lives after years of addictions and homelessness. You can join our email prayer team here.
Your Donation Will Make a Difference!
"My family and I moved to Eau Claire from Joplin, MO, where we had lost everything in the tornado. After one and a half years after the tornado, we could not find affordable housing or steady employment. I am a pharmacy technician in school to become a pharmacist. Since moving here, I became employed by Shopko and have enrolled at [U.W.] to begin this summer. [The Bargain Center] gave my children and I clothing, which helped us tremendously. Finally, after two years later, we are settled in a place we can call home." —Kay
The Bargain Center exists to provide funding for the programs that help the homeless and hurting in the shelters at Hope Gospel Mission. But it also has a secondary purpose: to help people with emergency clothing and furniture needs through our voucher program, people just like Kay in the story above. Over the years, thousands of people like Kay have been helped through our voucher programs.
But to keep this program going and to continue to provide funding for the shelters and recovery programs to operate, we need your help during this time of year. This is our slowest season for donations of used items and for sales. We depend on God to provide for our needs through the kind hearts of people in our community.
We encourage you to help the men and women and children who need Hope this winter by donating your used goods to our stores and, if you haven't ever done so, stepping into the Bargain Center to see what we have to offer. There's a good reason why we call it a "shopping adventure!"
See you soon!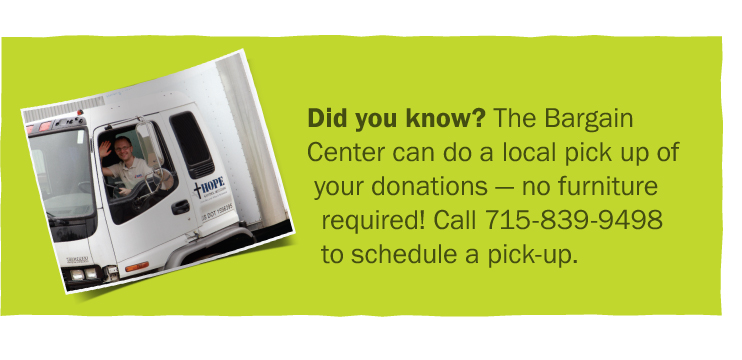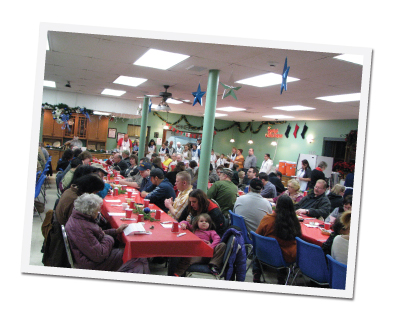 Thanksgiving & Christmas Dinners
We thank everyone who gave financial gifts and volunteered for our Thanksgiving and Christmas community meals. We served over 470 meals total at these holiday events. To see pictures from Thanksgiving, click here. To see pictures from our Christmas Season Dinner, click here.
Those Who Gave in Honor or in Memory of...
Person(s) being honored are bold.
| | | |
| --- | --- | --- |
| Sandy & Bob Adams, Ruth Halverson | Frances M. Eder, Mary Eder | My Husband, Rosemary McCarthy |
| All Those in Need at Thanksgiving, Bob & Donna Wolniak | Clinton Eide, Julie Eide | My Husband Bud & Daughter Nancy, Phyllis Glanzman |
| Keith Anderson, Julie Eide | Ron & Carolyn Erickson, Robert & Victoria Bennett | My Husband Jon, Dolores Smiley |
| Chris Backus, Dale & Pat Backus | Ernie, June Wrogg | My Mom & Dad, Michael & Diane Stangl |
| William Ballard, Peggy Ballard | Shirley Field, Robert Field | Andrew Nawrocki, Raymond Nawrocki |
| David L. Beck, Lee Ann Beck | Leann Frank, Bob & Mary Poehls | Ruby Nelson, Jim & Beverly Page |
| Terri Beissel, Lloyd or Julie Stunkel | Jean Freagon, Duane or Audrey Freagon | Linda Olson, Dean Olson |
| Dear Sister Marlene Berlin, Robert & Jan Wickstrom | Fred Michael, Shirley Frye, Alvin & Jill Michael | Our Parents, Robert & Victoria Bennett |
| Herb Bowe, Erma Bowe | Joseph Gine, Bonnie Lane | Our Parents & Children, Gary & Kathi Bauer |
| Dorothy Boynton, Debra Boynton | Charlie Goetner, Rebecca Martin | Lavern & Lucy Owen, Charles & Mary Noll |
| Gregory John Bredlau (2), Dennis Bredlau | Bill Grinder, Vicki R. Boetzer | Parents, Brothers, Sister, Son, Granson, Niece & Friends, Jacob & Betty Vitek |
| Grace Brenden, Robyn Sivertson | Autumn Rain, Jeremy, Darsie, Jenessa, Zoe, Kenny Hartzell, Susan Hartzell | Lea Rae Pastorello (2), Samuel Pastorello |
| Dr. Brad Brewe, Thomas & Val Runions | Millea Jean Hefner, Barbara Screnock | Myra Petersen, Sandy Kallenbach |
| Elaine Bruxvoort, Linda Bergstrom | Alvera Held, Warren & Sandra Peterson | Sandy & Tom Piette & Family, Robert & Victoria Bennett |
| James Burgess (2), Carolyn Burgess | Nicole Henning, David Nanstad | Daniel Roehrborn, Shirley Roehrborn |
| Karen Burgess, Carolyn Burgess | William E. Hitzemann, Sr., Katrina Clary | Clemens Roter, Rosemarie Roter |
| Archie Burlingame, LaVonne Burlingame | Norman & Cora Hovland, Rodney or Beverly Hudson | Elmer & Janet Sabol, Cindy & Ralph Melgard |
| Marvin Cartwright, Sellers Smart Network, Inc. | Ross & Leita Hudson, Norman & Cora Hovland, Rodney & Beverly Hudson | James Shay, Rebecca Martin |
| Jesus Christ, William Borland | Julie, Joy K. Moore | Bill Smith, Agnes Smith |
| Alwin Christopherson, Daniel & Gail Schulner | Carol Kinney, John & Carol Kinney | Linda Smith, Agnes Smith |
| Leo R. Clark, Mary Clark | Walt Koller, Sue Koller | Steve Smith, Agnes Smith |
| Corey N.A. Clark, Dawn Clark | Ardythe Lee, Robert R. Lee, Sr. | Bruce Solberg, Denise D. Mahnon |
| Jim Coleman, Wayne & Erma Coleman | Mari Bella Lippa, Mr. & Mrs Marvin Piwoni | Elsie & Richard Stetzer, My Parents, Margaret Kopp |
| Jim Coleman, Neil Hemenway | Lydia & Leo Lonzarich, Alfred B. Olson | Carol Steward, Cindy & Vernon Freeman |
| Jim Coleman, Robert & Lorraine Soderquist | Loved ones, Mrs. Clayton Anderson | Tekla Stroga, Nancy Epsaro |
| Richard Colvillle, Joy Colville | Cora Maxwell Ritter, Thomas or Muriel Eslinger | Nicole Everett Swenson, Richard & Linda Swenson , M.D. |
| Lawrence Cook, Hazel Cook | Kristina McGee, Sheila & Anthony Kvapil | Rev. Don & Marge Thorson, Cindy & Vernon Freeman |
| Chad Corbin, Susan Corbin | Mike, Karol Todd | Kirk Welsh, John & Diane Welsh |
| My Dad, Robert & Jan Wickstrom | Mom, Judy Juodis | Pastors Sherwood & Leila Wilson, Living Word Church, Mr. & Mrs. James Engel |
| Dad, Deb, Jake & Lynn, Raymond Nawrocki | Lorum Morris, Joan & Earl Chwala | Cindy Wolf, Beverly Fuhrman |
| Ervin Dewitz, Toni & Gene Dewitz | My Mother, Robert & Jan Wickstrom | Chris Wood, Barbara Thomas |
| Sally Doverspike, Karen & Eugene Johnson | My Children, Steven Spina | |