Part Three of "Celebrating 15 Years of Service" (View Part One here. View Part Two here.). By Mark Donnelly, Founder & President of the Board.
For the past several years Hope Gospel Mission has been working on improving our program and facilities.
This spring we opened a transitional housing facility for our program graduates to live in. It allows them to practice the new skills that they have learned before leaving the Mission. They also can save money by paying a reduced rent while still having some accountability.
We have also remodeled and upgraded our Bargain Center, Auto Sales building, and moved the Solomon Learning Center into a new building next to Building Hope. We are currently remodeling the living quarters of our Men's shelter. All these things will help us to serve our residents, customers and donors better.
Our future plans include starting a shelter for homeless women and children. For the past 15 years it has been on our hearts to eventually serve this group of individuals. This is the fastest growing segment of the homeless population and also the most difficult to minister to! The current shelters in our area that house women and children are typically full and offer shorter term stays. There is a real need in our community for a long-term program to help these individuals break the cycle of homelessness. However, it will require:
A new facility;
Additional staffing;
A large capital campaign to raise the initial funds;
A new, consistent funding source to help support the new shelter and associated programming once it is opened.
This is why we want to start a second thrift store like the Bargain Center. Ideally we would like to have it in Menomonie, so it would be close enough to transport our residents back and forth for their job training. The second store would need to happen before the women and children's shelter, so please continue to pray that God would open the door for us to start this much needed shelter!
In conclusion, I want to say thanks to the Lord and all the people that He used to help make Hope Gospel Mission a reality for the past 15 years! When I think of what the Lord has done, Ephesians 3:20 comes to mind, where Paul writes, "Now unto him that is able to do exceeding abundantly above all that we ask or think, according to the power that works in us, unto Him be glory in the church by Christ Jesus throughout all ages, world without end, Amen."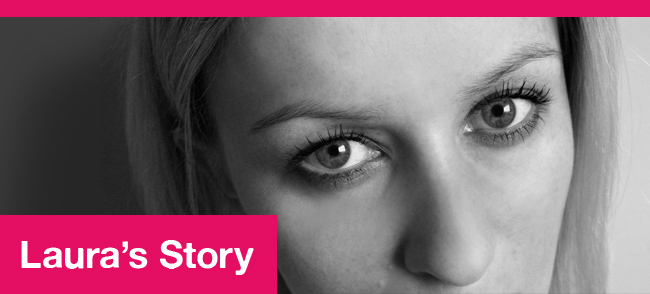 "I was living in some horrible fantasy world that I did not know how to break free from."
That's how Laura describes her life before arriving at Hope Gospel Mission's Ruth House.
It was July of 1999 in St. Louis, Missouri. Laura, her father, and her younger brother found out that Laura's mother had stage four cancer. Eight weeks later, her mother passed away. Laura was 21 and her brother 15.
Her family was devastated. Laura began using pills to cope with her loss. Although her father was taking care of her financially, she would use every opportunity to steal from him.
Taking these drugs became a daily habit for Laura. She couldn't stay employed, had hardly any friends, and would stay up at night and sleep all day long.
Then, through a friend of a friend, she met Bob. Bob enjoyed listening to her. He cared about what she was going through. He even loved Laura's father and talked with Laura's family about Laura's mother, even though he had never met her. They began dating.
In 2002, Laura and Bob moved in together. It was a time of ups and downs, but things eventually started to look up again. Laura stopped stealing from her father and even quit using pills. Laura and Bob even got married in October 2003.
But in July 2004, Laura's father had a massive heart attack and died. He had died on his way to the hospital while wearing his work uniform and his wedding ring, which he had never removed.
Laura then became suicidal and stopped caring about life. She and Bob moved into her father's house to help her younger brother finish school and take care of the home. However, with Laura in and out of psychiatric hospitals and taking antidepressants, she still couldn't cope with the pain of her loss.
Around this time, she inherited about $70,000 from her father's estate. She spent it in one year. She bought clothes, shoes, and household items in an attempt to fill the void left by her parents.
Thinking that having a child might help her with her grief, she had a daughter, Hannah, in October of 2005. Although she had been angry with God for years, when she saw Hannah, it was the first time in a long time that she acknowledged that there was a God.
It was soon after that Laura and Bob fell apart and separated. They then got back together, moved to Minnesota, but divorced soon after. That's when Bob decided to move to Eau Claire with Hannah. Laura decided to move as well.
However, she moved into a place that was shared by a marijuana addict. She could never have her daughter over because the place was a disaster. After living this way for three months, she went to social services. They referred her to Hope Gospel Mission's Ruth House. She called and never looked back.
Since coming to the Ruth House and going through our programming, Laura has deepened her relationship with God. She has put her addictions behind her through counseling and fighting them through better coping mechanisms. She has found a loving, caring community of people. And she's found work! At the time of this article, Laura is about to graduate from our SaFE/Work Readiness program and make her way back into the world, set up for success.
Congratulations Laura for your perserverance! To read Laura's entire story in her words, please click here.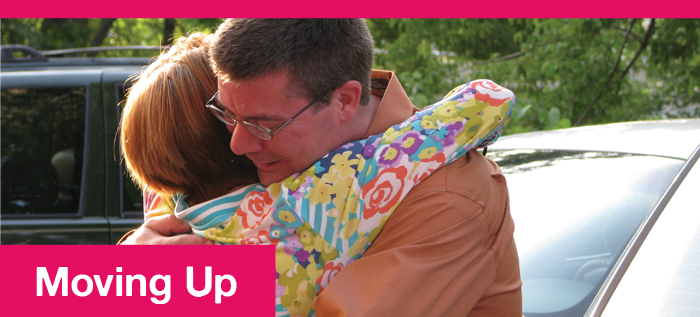 Every month we hold a special celebration dinner at our Men's Shelter. Staff, volunteers, friends, family, supporters and church members get together to celebrate all the things the residents have accomplished in that month such as long-term sobriety, stable employment, financial resources, and victory over the struggles that brought them to our door.
For example, residents in the Stability and Foundational Education Program complete academic goals and classes, sometimes even attaining their GED if needed. Residents in the Work Readiness Program complete various classes in preparation to be the best employees they can be, ending in a work-readiness certificate. Once they've completed this, they find employment.
During their stay, our residents also take Biblical Conflict Resolution classes and go through Financial Peace University, a program that teaches smart financial planning and budgeting. Our residents also reach milestones in the Narrow Road Addiction Recovery class.
These are the types of important achievements we applaud and support at these celebration dinners. Often this is the first time in our residents' lives that they are celebrated. Many express their sincere thanks for the hope and help they never thought they would have in their life!
Our favorite celebration dinners are when we celebrate program completions. After a resident completes the Stability and Foundational Education program, the Work Readiness program, and obtains stable employment, we get to celebrate their graduation from our program, which is the ultimate goal for our residents.
The meals are delicious. The recovery is real. We invite you to come celebrate with us and be a cheerleader for those who have decided to overcome their broken past and embrace for themselves a new beginning with the help of Jesus. Our celebration dinners are on the last Friday of each month, at the Men's shelter in downtown Eau Claire. We start at 6:00 PM. Come and join us!


Needed Items
Please drop off any items on this list at 8 South Farwell Street in Eau Claire at any time. Thank you!
Minivan for Ruth House (Call 715-830-0155 for more info)
Men's razors
Men's white socks
Men's boxers, small, medium & large
Bars of soap
Men's deodorant
A good, working sewing machine
Vitamins
Vitamin D3
Stamps
New pillows
Gloves
Those Who Gave in Honor or in Memory of...
Person(s) being honored are bold.
| | |
| --- | --- |
| Marvin Cartwright | Sellers Smart Network, Inc. |
| James M. Dahl | Barbara Dahl |
| Valerie Dehnke | Gene Dehnke |
| Ross Gjerning | Patrice Gjerning |
| Ryan Grorud (2) | Donald J. Grorud |
| Perry Hurlburt | Matthew and Debra Hurlburt |
| Dale Johnson | Matthew and Debra Hurlburt |
| Donald Kurtz | Donald and Phyllis Kurtz |
| Robert Labs | Mary Labs |
| Irene Maves | Lynn Nehring |
| Robert "Bob" Metzgar | Karen E. Metzgar |
| Lea Rae Pastorello (3) | Samuel Pastorello |
| Alice Sauder | Fred Sauder |
| Duane Stafsholt | Sherrie Stafsholt |
| Lucille Thompson | Corrine Hoff |
| Evelyn Townsend (2) | Alison and Allen Meyer |
| Donald Tranberg | Greg Gilbertson |
| Estelle Watson | Susan Nuutinen |
| Leon P. Weber | Berdena Weber |
| Quentin Zinsmaster | Alice Zinsmaster |
Thank You, Banquet Sponsors!
Thanks to the attendees, donors, and sponsors who made our 2013 fundraising banquet a success. We raised over $27,000 to help fund our programs for the poor and homeless in our region.
Acoustic Café

Affiance Insurance Group

American Cancer Society

Amy Chapel

Anonymous

Anytime Fitness

Associated Bank

AutoCare Center

Ava Anderson (Kathy Ailie)

Badgerland Printing

Beltone Hearing Aid Center

Birch Street AutoCare

Black River Furniture

Body Focus Massage

Brent Douglas Floral

Buffalo Wild Wings

Burger King

C&M Properties

Cedarcreek Community Church

Charter Bank

Chippewa Valley Airport Service

Chippewa Valley Grain & Processing

Clinic for Christian Counseling

Colonial Services

Cottages at Serenity Lake

Crossroads Church

Crusts Unlimited

Culver's

Curtis 1000 (Ross Kooiker)

Department of Interiors

Dickey's Barbecue

Down to Earth Garden Center




Dr. Jeffrey Shepich

Eau Claire Auto Parts

Eau Claire Floral

Erbert & Gerberts

Fall Creek Chiropractic

Fall Creek Dental

Family Christian Stores

Farnsworth Service

Festival Foods

Fleet Feet

Fleur Maureen

Gish Photography

Gordy's County Market

Grace Baptist Church

Grand Avenue Café

Great Harvest Bread

Hagen Decorators

Hallie Chiropractic

Hartung Appraisal Company

Highland Fitness

Huebsch

Jacob's Well Church

JB & S Enterprises

JC Auto Sales

Jeff Heughins

Lake Hallie Golf

Lewis Financial Advisors

Mancino's

Marilyn Burgess

Marlor Jewelry

Marten Transport

May's Floral

Metropolis Resort

Mickey Johnson

Midwest Lighting

Mouldy's Archery & Tackle

Overhead Door

Peters Real Estate & Rentals

Prestige Auto

Reaching Out Ministries

Regis Court Dental

Richie, Wickstrom, & Wachs

Rock & Tait Exteriors

Roth's Sugar Bush

Sammy's Pizza

Sam's Club

Scheels

Simply Cakes

Smith & Prissel Chiropractic

Sourcecut

Sue's Deluxe Bake Shop

Swimrite Pools & Spas

The District Company

The Potting Shed

Todd Nieting

Toppers East

United Way

Water Source Heating & Cooling

Wegner CPAs

Wellness Shack

West Ridge Church

Woodman Construction

Xcel Energy