New Life, New Hope
Sometimes, hurting people come to Hope Gospel Mission simply because they're hungry.
They may be hungry for a meal, or they may be hungry for something much deeper... something like hope.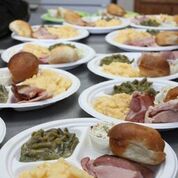 Job loss, eviction, illness... all these things are challenging, but when hope is gone, the situation becomes much more difficult to overcome.
Thankfully, restoring hope is easier than you might think. In fact,
sometimes just a simple meal can give these precious friends the hope they need to carry on.
This Easter season, we're going to serve more than 300 of those meals to hurting men, women and children at our annual Easter dinner. We're also going to serve more than 2,200 meals to the men and women who are part of the Renewed Hope Program, and we need your help.
One meal costs just $2.29, and it offers so much more than just food: it lets our residents know they're not alone.
Will you provide a gift today so we can provide meals this month?
Every meal you provide will give our guests the reassurance that someone cares for them and is waiting to help them get back on their feet.
Plus, when our guests join us for the Easter dinner, we make sure they know that lasting hope and life-change are available to them at the Mission.
Just $2.29 provides a hot meal to someone who desperately needs to know they're not alone.
Your gift today will make sure this Easter is truly a time of new life for our dear guests.
Thank you for partnering with us!