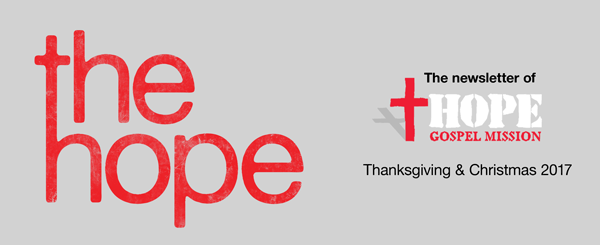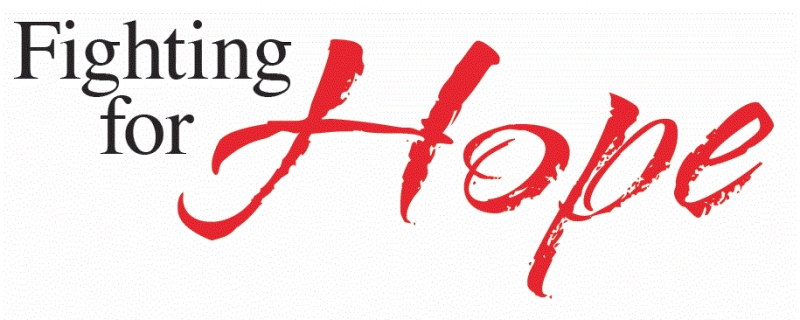 Dearest friend and supporter,
Broken, hopeless, addicted, abused… this is what we first see from many of the amazing people who walk through our doors. But when we look around and see the hope that is ready to tug at their souls, we know that a beautiful change is coming.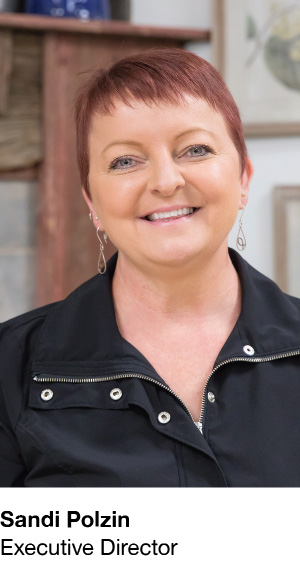 That's why I am here: to serve as a vessel who offers second chances each day. When these dear ones walk through our doors, we get to direct them to Christ and help them find healing. We are fighting for hope, and we are blessed.
What a beautiful time of year, this crisp new season. It's a time to celebrate that very first Christmas, a time when Christ stepped in to guide us out of the mess we've made and show us that relief is possible. He is so, so good!
We do what we do at Hope Gospel Mission because of what Christ did for us. He lived among the hurting; we do the same. He builds relationships with the lost; so do we. He rescued us; we share that rescue with our neighbors in crisis.
In this edition, you'll hear from Heather, a woman who needs a brand new beginning. While here, she is learning to build relationships and trust God's plan for her. She is safe and well and longs for hope. It is a blessing to be part of her story.
I hope your holidays are filled with the peace, joy, and love that are yours for the taking. You are HOPE in the midst of hopeless situations every day, and for that reason, we give thanks!!!
Sincerely,

Sandi Polzin
Executive Director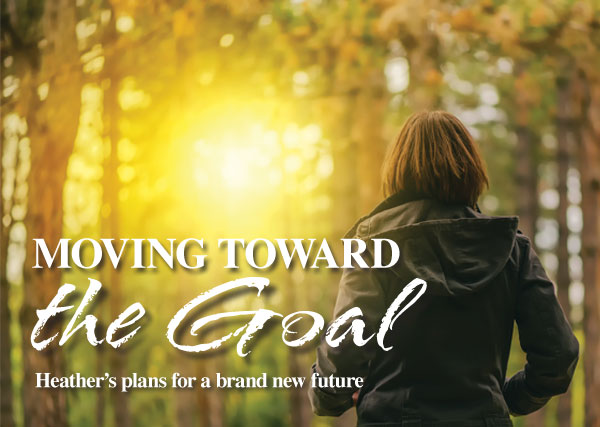 Heather has struggled with drug addiction for many years. She's been in jail on several occasions, and like many of those who come to stay at the Mission, she doesn't have much of a support system at home.
After I got out of jail the last time, I could have lived with my grandpa, but he's an addict himself and a big enabler," she tells us.
"Before I came to the Mission, I didn't have any support when it came to being sober. If I wasn't using, they didn't really want me around… coming here has been awesome because I have people who want to see me do well."
Heather does indeed have support here. She's enrolled in the Renewed Hope Program and hopes to graduate by the end of November. She's surrounded by people who believe in her and want the best for her, and she's determined to make the most of the opportunity.
A Change in Perspective
As Heather works through the Renewed Hope Program, she's learning to identify the things that drive her. Most importantly, she's learning who God says she is and how His love can lead to new life.
"I've learned that who I used to be can't define me anymore. I'm not classified as an addict any longer, and I'm so much happier.
"The last time I was in prison, I really dug deep into the Bible. I didn't want to be like the seeds that are thrown into the ground and die because the roots aren't deep enough. I wanted to really know about God, and the day I was released, I got baptized."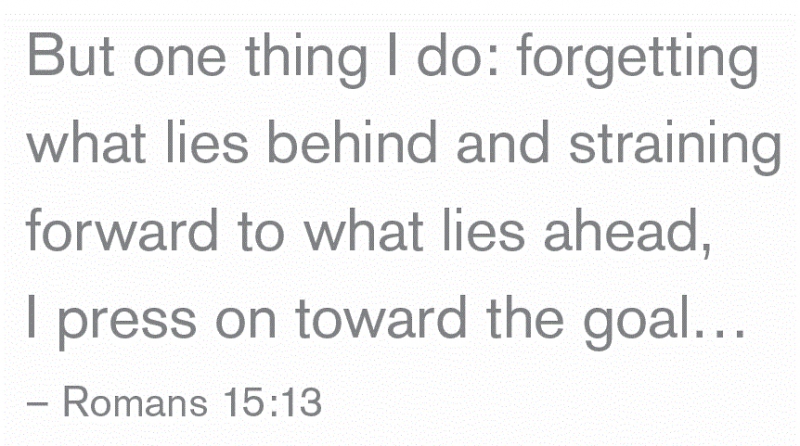 As she completes the program, Heather's goal will be to find a job — and she's getting a head start right here at the Mission.
"I've been working at the Bargain Center and Building Hope, and I really like it!" she smiles. "I want to keep doing something like that; I just like to interact with people."
Her Ultimate Goal
Heather is working hard on her recovery, and when it becomes difficult, motivation isn't hard to find.
"I want to get my kids back," she says softly. "That's my main goal. It's what I'm moving towards."
We are here to support her as she works to reunite with her children. We're walking alongside her and cheering her on, and as she grows in confidence and faith, we're providing the training she needs to live on her own again soon.
YOU are a big part of her recovery also. When you give to Hope Gospel Mission, you provide the care that Heather and others like her need. You're helping her reach her goals and build a future for herself AND her children.
"Without you," Heather says tearfully, "None of this would be possible. I wouldn't have had a second chance."
Thank you for giving Heather a fresh start. You are part of the support system she desperately needs, and we are truly thankful for the difference you're making to all those in need of a second chance!
Names and photos changed for privacy.
Upcoming Events
Thanksgiving Community Dinner
Thursday, November 23, 12:00–2:00 PM
Our annual Thanksgiving Community Dinner will be held at our downtown location, 8 South Farwell Street in Eau Claire. Individuals and families from all over the Chippewa Valley are invited to join us for this FREE community meal as we celebrate Thanksgiving at the Mission.
Celebration Dinner
Friday, December 8, 6:00 PM
Celebrate the progress our residents have made at these free dinners at Salem Baptist Church in Eau Claire. See firsthand how your prayers and gifts are making a difference at the Mission. All are welcome!
Christmas Community Dinner
Saturday, December 16, 2017, 5:00–7:00 PM<
Join us for the Mission's annual Christmas Community dinner at our downtown location, 8 South Farwell Street in Eau Claire. All are welcome to this delicious — and FREE — home cooked meal. Bring your family and friends and celebrate Christmas at the Mission.

Volunteers are valuable to the work at Hope Gospel Mission. We invite you to consider using your talents to serve at the Mission.
Current opportunities:
Cooking at House of Hope and/or Ruth House
Mid-day Shuttle Driver – House of Hope
Bargain Center Team Members
Building Hope Team Members
Christmas Community Dinner
Tutor(s)
To learn more about these and other volunteer opportunities, visit HopeGospelMission.org/volunteer.

Direct your Thrivent Choice Dollars Today
Are you a Thrivent member? Do you know that you can direct support to Hope Gospel Mission through your Thrivent Choice Dollars? For information to direct your Choice Dollars, contact your Thrivent Financial representative, go online to www.Thrivent.com/thriventChoice or call 1-800-THRIVENT.
There are many Action Team opportunities at Hope Gospel Mission. For more information contact John Ailie at 715.552.5566 ext. 1305 or johna@hopegospelmission.org.
Needed Items
Meat: Beef, Chicken, Pork & Turkey
Socks & underwear
Feminine hygiene products
Cough drops
Razors
Deodorant
Postage stamps & copy paper
Twin sheets (80-inch long)
Bath towels & wash clothes
Shower shoes
Blankets
Items may be dropped off at the House of Hope, 8 South Farwell Street, Eau Claire at any time.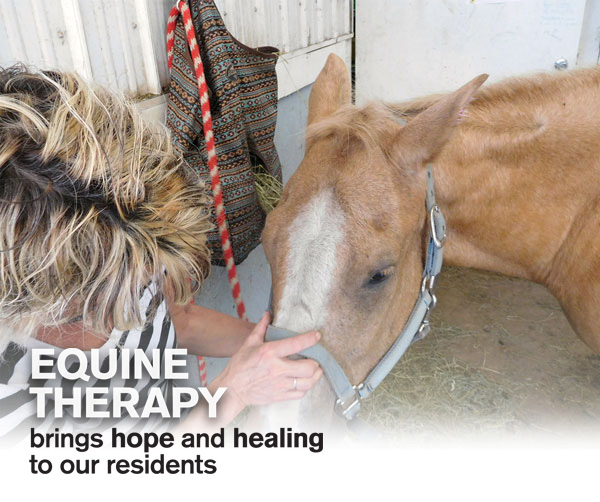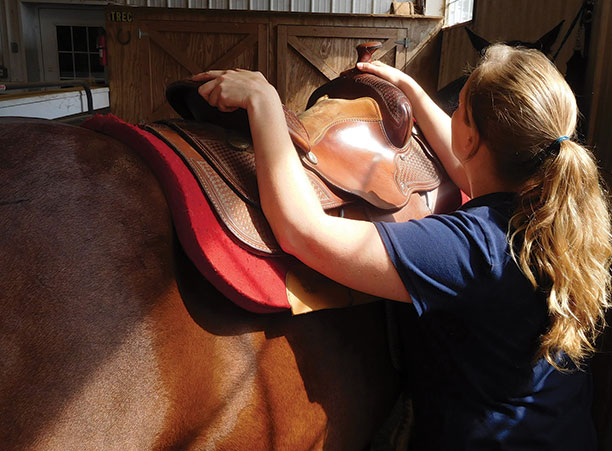 Studies show that people working with horses experience lower levels of stress, anxiety, and anger, and gain greater feelings of self-esteem, patience, and trust.
Thanks to a grant from the Eau Claire Community Foundation Women's Giving Circle, Hope Gospel Mission was able to partner with the Trinity Equestrian Center to provide Equine-Assisted therapy to three of the women staying with us.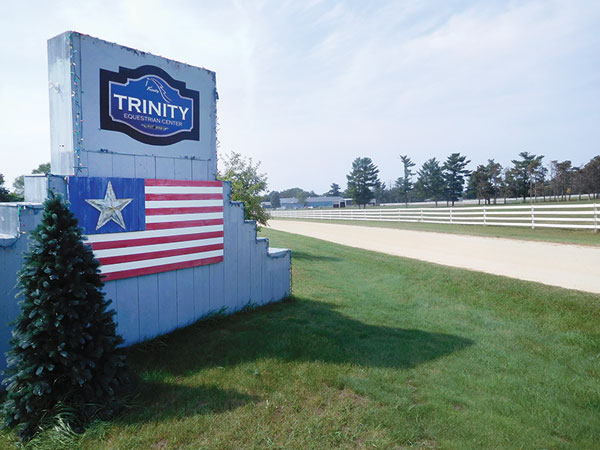 The women spent one session each week grooming, riding, and bonding with the horses, and the change in each of them has been remarkable.
"I have a tendency to always be moving or doing something, so I found that this is really relaxing for me," says Karen. "It's the contact with the horse... my body was doing something, but I didn't have to think about it."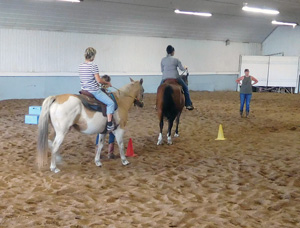 Melody agrees. "This gave me something to look forward to. I've been to a lot of types of counseling, but this gave me a bond that was really special." Since the sessions began, each of these women has become more open. The time spent with the horses helps them focus on something other than their own circumstances, and in return, they're more attentive to others and the world around them.
We're grateful to the Women's Giving Circle for their generous grant, and we hope to be able to continue this vital partnership.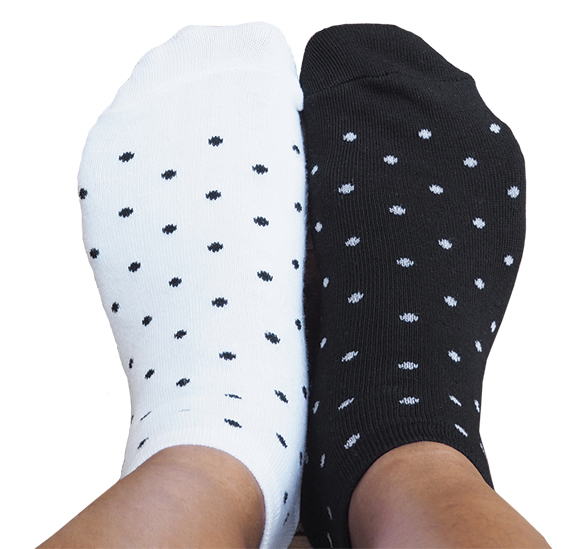 DOUBLE the impact of your donation with a matching gift Many companies will match their employees' charitable contributions dollar-for-dollar. Check with your employer, and find out if you can increase the impact of your donation to Hope Gospel Mission.

When you drop off gently used clothing, household items, appliances, and even cars at one of our resale stores, you make a big difference to our residents. Not only do our residents gain valuable work experience by working in the Bargain Center, but the profits from each sale go directly back to the programs we offer at Hope Gospel Mission, allowing us to reach even more men and women in our community with the hope of Christ.
The Bargain Centers, Building Hope and Auto Center are open for shopping and to receive donations Monday–Saturday each week. Click here to find out what to donate, when to shop and how you can support these vital businesses!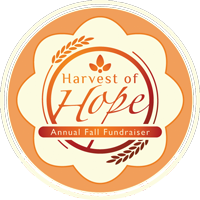 Thank you to our Harvest of Hope attendees, donors, and sponsors!
Click here to see more.
In Memory
Persons being honored are listed first:
Donald Beier, Mrs. Donald Beier
Duane M. Fern, Dawn Fern
Barry Fjelstad, Mr. & Mrs. Howard Hanson
Virginia M. Hendrickson, Carol Bakke
Maddie, Cindy Enger
Fern Simonson, Todd & Stephanie Lundquist
Dorothy Walters, John Walters
Kirk Welsh, John & Diane Welsh