Join the caring community at the Mission!
You can provide support to help Rescue, Rebuild and Renew lives.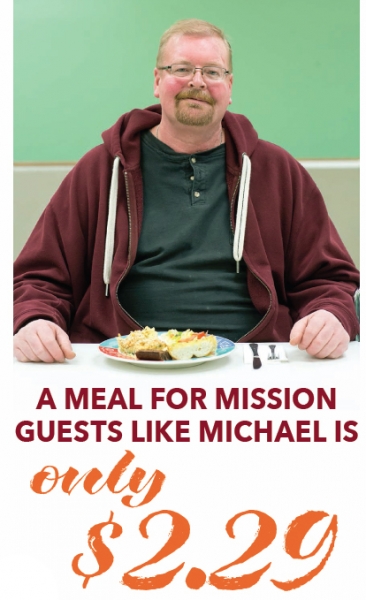 "I've been other places," Michael shares, but I didn't have the connectivity that I have here. The people here helped me open up. They helped soften my heart."
This is something I hear often at Hope Gospel Mission. Our residents want to hear the truth about the Lord, and they need caring people to walk alongside them as they seek Him. It's a powerful reminder that while meals and shelter are critical to those in need, the supportive community here at the Mission is also vitally important.
You are in important part of the community! Because of your partnership, our residents have somewhere to turn for a meal, an encouraging word, shelter and in-depth care through our Renewed Hope Program. As Thanksgiving approaches will you partner with us once again so we can offer this life-changing help throughout the upcoming holiday season?
A meal is only $2.29, and when you give, your gift goes far beyond just dinner. You're becoming a part of the community that rallies around our residents when they need it most.

Please give online today so we can continue to meet the physical AND spiritual needs of the hurting in the Chippewa Valley. Your support makes this caring community possible, and we're grateful for your support!