Dear Neighbor,
Imagine the coldest night of the year. Darkness. Biting wind. Heavy snow. Now imagine sleeping outside.
This is the reality for many homeless men and women in western Wisconsin. But YOU can bring them in from the cold and provide life-changing hope.
Right here in Eau Claire, they're sleeping under bridges and in tents in the woods. Sleeping on a cold porch.
It's especially dangerous this time of year because of exposure to frigid temperatures, extreme wind chills and snowy weather.
There are many who are homeless this winter in western Wisconsin. They'll attempt to stay warm on the winter streets tonight. But trying to survive is no way to truly live.
It doesn't have to be this way. Your gift today will provide:
Temporary shelter
Warm clothing
Hot meals
An opportunity to Rescue, Rebuild, and Renew lives
Winter is far from over. Please send your most generous gift as soon as you can.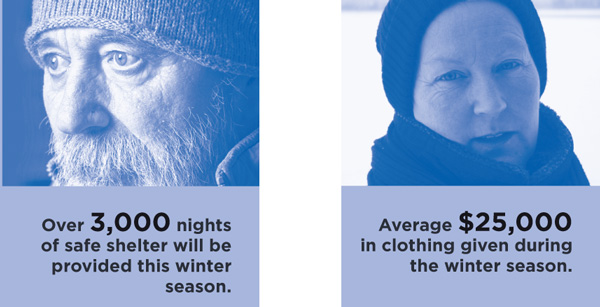 Your gift today will provide LIFE-SAVING shelter, food and warmth. But more than that, your gift will offer these men and women LIFE-CHANGING opportunities to get them off the streets for good.
You'll give men and women the chance to:
Heal from trauma
Recover from addiction
Get an education
Learn job skills
Develop a support system
Please give as if you were knocking at Hope Gospel Mission's door. As if you were cold with nowhere to turn.
Your kindness will not only bring your neighbors in from the cold, clothe and feed them – but for some, it will bring real change and a new future.
Sincerely,


Sandi Polzin
Executive Director

P.S. Living on the streets is always dangerous, but especially so in these bitterly cold months. Please give generously today to provide warm shelter and clothing, hot meals and the love of Christ to western Wisconsin's neediest residents. Thank you.