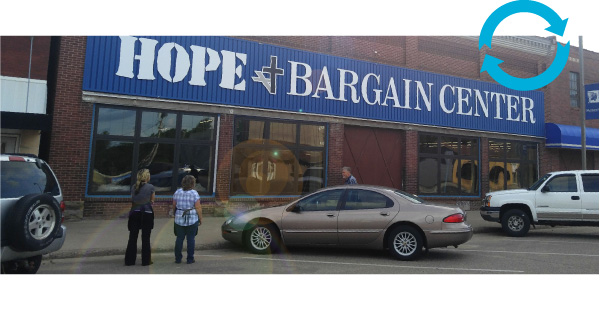 Hope Gospel Mission is happy to announce that we are opening a Bargain Center store in Mondovi.
The store is located in a historic building located at 121 North Eau Claire Street in downtown Mondovi. This building has served the Mondovi area for generations and is now being restored to both preserve its rich history and to again serve the Mondovi community.

Craig Pedersen, Director of Businesses and Facilities for Hope Gospel Mission has been leading the restoration and revitalization project. He has been delighted by the many local people who have generously volunteered their time and talents over the last months in the restoration of the building. There is a sense of excitement from the many area people who have stopped by the store to witness the restoration and share memories of shopping in the building in past years. This building and the stores that have occupied it, at the busiest intersection of town, have a very special place in the hearts of people who have shopped in it over the years.
The building was originally constructed by William Helwig in 1906 for his department store. It was then occupied by Ludden's Department Store from 1927-1929. The Farmers' Store was there from 1929 to 1977 followed by the Co-op, Bob's IGA in the 1980's and 90's, then Fairview Foods and finally Pamida. Most recently the building had been vacant for almost 10 years.
The newly remodeled store will now be home to the Hope Bargain Center of Mondovi having 10,000 square feet of resale display area for high quality used and surplus items. There will be a large selection of clothing as well as household items and some furniture. Residents of and visitors to the greater Mondovi area will now have the option of finding affordable everyday items right in Mondovi.
The new store is scheduled to open in July and have a grand opening in August. When asked how the new store will benefit the Mondovi trade area and the work of Hope Gospel Mission, Craig Pedersen stated:
The store is revitalizing a key historic building and portion of downtown Mondovi.
It will provide jobs to people in the area.
People can now find items right in Mondovi without having to drive a long distance.
Profits from the store will help fund the new facility that Hope Gospel Mission is planning for single women and women with children in the Eau Claire area.
It will be a Christian example of practical compassion in the Mondovi community.
The new store will accept the same type of donations of good, used items as the Bargain Center in Eau Claire. A list of acceptable items can be found at Hope Gospel Mission's website. The Building Hope store in Eau Claire will continue to be the location to donate and shop for building materials and large appliances.
You are encouraged to stop by the store and join our email list here for announcements on the store and its upcoming grand opening.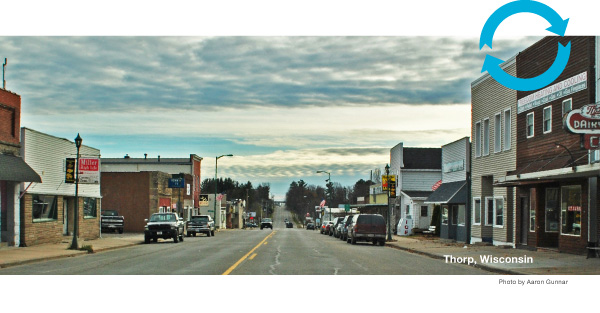 Steve is a friendly, outgoing guy who loves a hearty, bellowing laugh. A hard worker, he's called "Turbo" by other residents due to his high-energy and willingness to go above and beyond to get the job done. We recently sat down with Steve and got to know him a little more and how your gifts have impacted his life while at the Mission.
Steve was adopted when he was six months old. During his grade school years he lived with his parents in Humbird, Wisconsin, a small town that's a 50 minute drive south of Eau Claire.
A single child, he remembers going to church on Sundays with his mom and going fishing with his dad. In high school he joined the JV and varsity track teams. He also was involved in football, wrestling, and basketball.
After high school, he and his family moved out to Thorp, WI. Steve worked on farms, a cheese factory, and a seasonal job at Figi's in Marshfield, Wisconsin for a time. He eventually settled into a full time job at a new window manufacturing plant in Greenwood, Wisconsin, a job he held for 17 years.
Steve was a hard worker. But he was also an alcoholic. He says, "I was always one of the guys that stopped at the bar after work to have a beer." Steve got his first DWI in 1997. It wouldn't be the last.
Steve dated and then married a woman. It was his first real relationship where he loved and cared about a person. But she had two older boys and the marriage was rocky. He was able to acquire some land and set up a home for his family. Steve says, "The marriage was starting to fail because we both drank. It was one of those 'If you quit, I'll quit' situations. It was the day after Christmas 2001 that she pulled the plug on the marriage. That was a pretty rough time."
Around this time, Steve got his second DWI.
But it was Steve's routine that kept him going. In fact, he never missed a day of work in all of his years with his employer.
But things got very difficult for him when his mother, whom he was close to, developed pancreatic cancer and passed away in 2006. That's when Steve would visit the bars after work and stay until they closed at 2:00 am.
In 2009, Steve could see that his dad was losing weight and walking with a more pronounced slump. Being a single child he had developed a closer relationship with his dad after his mother passed and it pained him to see his father getting sicker and sicker.

About the same time Steve got the heads up from his employer of 17 years that the plant would be closing. Steve was always at work an hour early, prepping his work area and maintaining the machinery. He couldn't believe that his loyal 17 years of service were simply going down the drain without anything to show for it.
The constant running to the hospital for his dad and the stress of losing his job resulted in a fourth DWI and Steve being sent to prison for 90 days. Shortly after getting out, his father died.
Even after being sober and many conversations with the counselors at the prison, Steve was only looking forward to one thing once he got out: drinking. Upon release from prison, he dove back into his addiction. Now he was drinking a case a day on average. But his cousin, who had assumed payments for his property in Steve's absence, would have none of it and told him that he had to leave.
Steve didn't know where to go. Someone mentioned Hope Gospel Mission to him. So he applied and was accepted. Our staff met with him and helped him settle in for the long journey of recovery.
That was two years ago.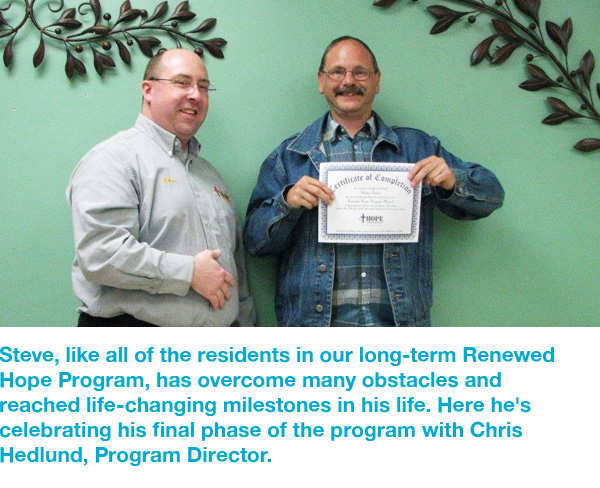 Today, Steve is currently in the middle of his job search. He's had many difficult yet rewarding times during his stay. His strong work ethic has stayed with him.
Thanks to your gifts, he's received job training, financial counseling, and has now been sober for two years. He's learned how to tackle his debt. He's learned what makes a great employee (hint: it has to do with character more than skills). Every day that he's been here his food, clothes, and other needs were met because of your financial donations and donations to our stores.
Your gifts are giving Steve another chance at life. From meals to job training, Steve has received all that he needs for being successful in life. Thank you!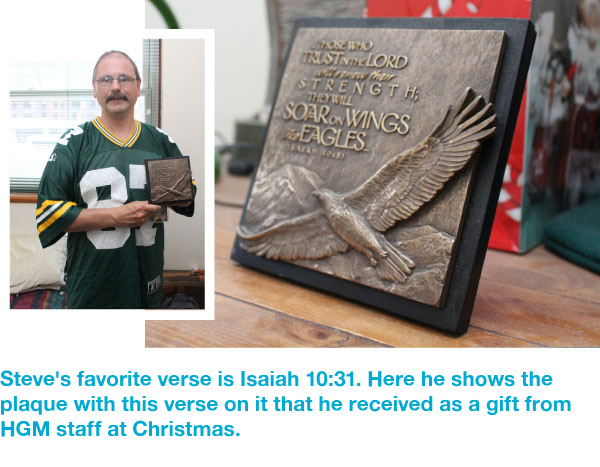 When we asked what he looked forward to after the Mission, he said "I want to leave this program with high honors. I want people to say 'Steve's welcome here anytime.' It's been a wonderful journey. I'm paying down debt. Working with my counselor Lee has been wonderful. I'm very fortunate to get a counselor that's on your side, who sticks up for you, works with you." Steve says that he looks forward to the car he'll receive at no charge thanks to auto donations to HGM Auto Sales. He looks forward to hunting again. He says, "I'm ready for that big step of getting a job, getting an apartment, and live life again."
Please pray for Steve to remain sober and to find a good job. Pray for the residents at Hope Gospel Mission to keep looking ahead and put their regrets in the hands of God. Pray for funding so we can continue to serve the men and women who come to us for help.
Thank you for your gifts and prayers that make Hope Gospel Mission a safe and healing place! Will you please consider a gift to help men and women like Steve? Click here to learn more about how to make a secure online gift.


Join us in celebrating the progress our residents have made and enjoy a delicious, free meal. Everyone is invited to attend. Program starts at 6:00 pm at 8 South Farwell Street in Eau Claire on the last Friday of every month.

Hope Gospel Mission's 14th Annual Fundraising Banquet will be on Tuesday, September 27 from 6:30 pm to 8:30 pm at The Florian Gardens in Eau Claire. Ticket prices are $25 per person or $40 per couple. More details to come!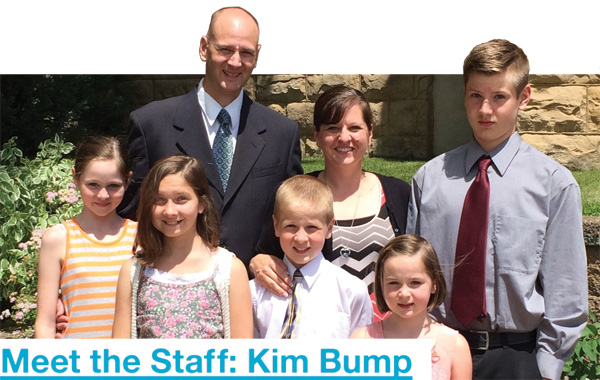 Tell us a little about yourself.
I have many interests but the ones I make time for are running (I have run 4 half marathons), scrapbooking and spending time with friends. I grew up in West St. Paul, MN. I earned my bachelors degree in Elementary Education from UW-RF which is where I met my husband of 19 years, Cameron. We have 5 children (which is why I don't have time for very many hobbies and interests). Besides my work at the Mission I am also the director of the children's ministry program at my church.
How long have you been with Hope Gospel Mission?
I have been at HGM for two and a half years. I started out at the Ruth House as a resident Advisor but recently transitioned into my new role as Food Service Coordinator.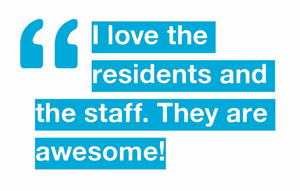 What drew you to Hope Gospel Mission?
I became interested in HGM because a friend worked there and told me about the position that was open. I was excited to work with the women there because I felt that I would enjoy helping to guide them and show them God's love.
What is your title and what do you do at HGM?
I am the Food Service Coordinator. My job includes planning the menus for both the Ruth House and House of Hope as well as ordering and shopping for what they need. I coordinate and train volunteers and seek out food donations.
What do you like most about working at the Mission?
I love the residents and the staff. They are awesome!
What might be something interesting to our readers that they might not know about Hope Gospel Mission?
I don't think that they realize how beautiful the Ruth House is.
How does HGM minister to you?
I am always amazed at how gracious the staff is with everyone. Any time someone makes a mistake they are quick to forgive and offer help so that person can do better the next time.


Want to see how we help the homeless and how your gifts are making an impact? Rob would love to give you a tour! Give him a call at 715-552-5566 #1303 or email him at robg@hopegospelmission.org.
"We had a great afternoon at Hope Gospel today. Through the Thrivent Action Team program we were able to bless Hope Gospel as we learned more about their ministry in the Chippewa Valley. JD Bickel, Thrivent's Community Engagement Leader, and several of my friends and my family participated in the tour. With Thrivent's partnership, we donated personal care supplies for the women and men residents at Hope in addition to receiving a tour. Thank you, John Ailie, for your time with us today!"
Patrick R. Hukriede
Financial Associate, Thrivent Financial®


Thank you to the following for your support:
Citizens Community Federal
Edward & Hannah M. Rutledge Charities
Thrivent Financial®
Walmart Eau Claire
Walmart Distribution Center Menomonie


Are you a member of Thrivent Financial? Learn about Thrivent Choice Dollars & how you can donate to Hope Gospel Mission when you visit this link.

Please drop off any items on this list at 8 South Farwell Street in Eau Claire at any time. Thank you!
Food
Milk
Butter
Pork
Eggs
Lunch meat
Sliced cheese
Non-food items
Shampoo
Deodorant, non-scented
Ibuprofen
Men's socks
Women's socks
Men's underwear
Women's underwear
Razors for men and women
Hair conditioner
Twin sheets
Towels/wash cloths


Persons being honored are listed first.
Ruth Anglemyer, David Anglemyer
Justin Biesecker, Wayne & Susan Seichter
Wilfred G. Burlingame, LaVonne Burlingame
Edwin Buskavitz, Eleanor Walter
Marvin Franz, Wayne Franz
Earl Gilles , Lorraine Gilles
Vernon Gullickson, Florence Gullickson
Homeless help, Ann V. Coolidge
Gordon Hong, Sr, Angie Hong
Donald T Johnson, LaVonne Johnson
Darlene Klobucar, Mr. & Mrs. Howard Hanson
Anita Kothlow, Clarence & Anita Kothlow
Terry Lawler, Ann V. Coolidge
Alice McKinley, Lorraine Gilles
David Miller, Dick Cable
Mom Frances, Dad Dewayne & Husband De Wayne, Sandy K. Sommerfeldt
My Dad, Jennifer Gergen
George D Pathos, A. N. Pathos
Sara Sessions, Mr. & Mrs. Howard Hanson
John Shinners, Scott or Gina Kircher
Lester (Sonny) Thomley, Greg Gilbertson
Betty Ursin, Martin Ursin
Victor Ursin , Martin Ursin
Kenneth Zurcher, David Zurcher
Margaret Johnson, Neil Nelson
Donna Coppedge, Neil Nelson