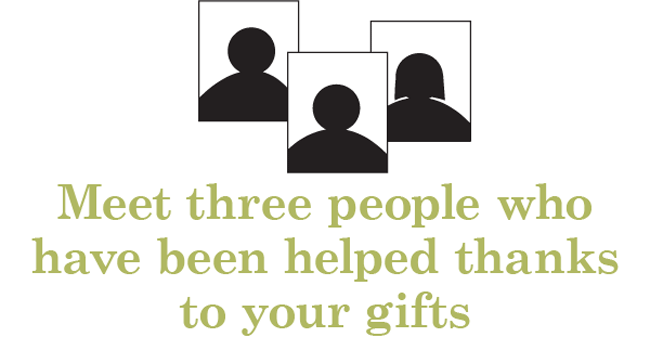 We asked some of the people in our programs how your gifts have had an impact in their lives. Here are three individuals out of dozens that your prayers and donations support while they rebuild their lives.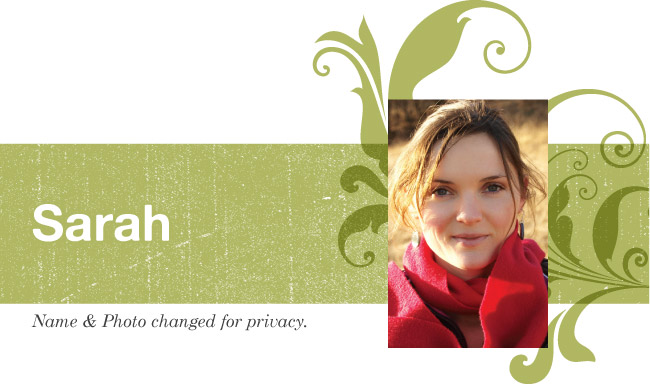 Favorite Season:
Spring is my favorite because it's the time when it gets warm and it is when all the fun starts.
What led you to HGM:
I was homeless for about a year after I lost my job, my car, and my apartment. I came to HGM because I needed help getting back on track.
How have you been helped so far:
Since I came to HGM they have met all my needs including meals. I am able to live a healthy lifestyle and they're teaching me pretty much everything that I need to know to succeed. They're also helping me overcome my addiction and so much more.
I am looking forward to getting my G.E.D., a job, a car, my own place to live, and, of course, a cell phone.
What is one thing you are setting your mind to in 2016:
I am setting my mind on the new life, the new way of thinking, the new place, the new job, and the new me.
What would you say if I told you that all services and meals at HGM were provided thanks to donors in our community:
It's something that you don't find anywhere else and there aren't very many places like this one. I am grateful to be here.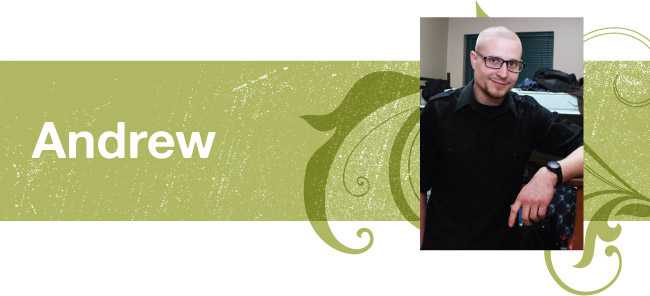 Favorite Season:
Winter is my favorite season because I love snow and winter sports- especially snowmobiling!
What led you to HGM:
My drug and alcohol addiction led me to HGM. It essentially completely took over my life and it not only hurt my life, but my loved ones as well. My mother had been pushing me to come here and get help for almost two years.
How have you been helped so far:
Firstly, my desire to use is nearly completely gone which is something that I would have never dreamed possible. There's also a peace in me now that I have never had before. I was always so discontented and angry. I've been to several rehabs and treatment centers before but I never made the wins and gains there that I am making here. All this I owe to the incredible program and staff, but mostly to my newfound relationship with God.
I look forward to continuing through the program, continuing to learn and grow by making changes, and growing in my relationship with the Lord. Although I still have a long way to go, I'm looking forward to it!
What is one thing you are setting your mind to in 2016:
I am setting my mind on continuing through and making more wins and gains.
What would you say if I told you that all services and meals at HGM were provided thanks to donors in our community:
I would say that we are truly blessed to have them! Through the donations, lives are being changed and saved. They are helping to fix what was once broken.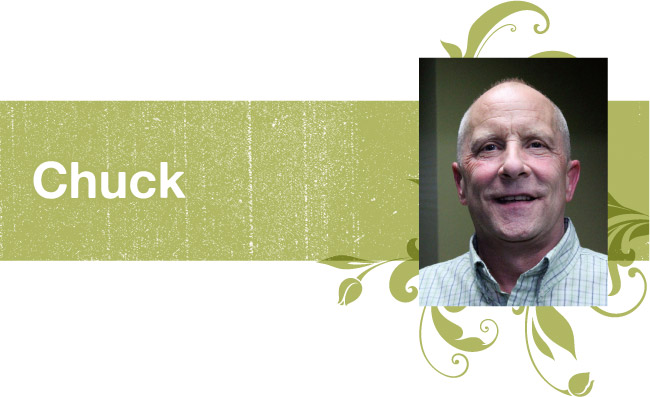 Favorite Season:
Summer is my favorite season because I love to swim in the ocean. I have been in both the Atlantic and the Pacific as well as the Gulf of Mexico.
What led you to HGM:
God led me here after I had a terrible stroke and lost everything I owned.
How have you been helped so far:
HGM has given me the hope that my life can get better. I can rise above my disabilities and be able to see my daughters.
I am looking forward to being closer to God and family.
What is one thing you are setting your mind to in 2016:
I am setting my mind to seeing my daughters that I haven't seen in ten years.
What would you say if I told you that all services and meals at HGM were provided thanks to donors in our community:
I would say I used to think that my surviving the stroke was a miracle, but now I know I was blessed by God. I am not a miracle though. Miracles are the people that give their time and money to help the needy everyday; people that never look for recognition. They know that when they help one homeless person, two more appear. They fight a battle every day that they know they cannot win. These people are the miracles that saved my life. These are God's angels. By the benevolence of people I will never know, I can start my life again. I will be able to see my daughters for the first time in 10 years. I will someday be able to go home because of these angels that never give up. Day after day they persevere to feed, cloth, and provide shelter to people they will never know or meet. If they aren't miracles sent here as angels then I don't know what a miracle is.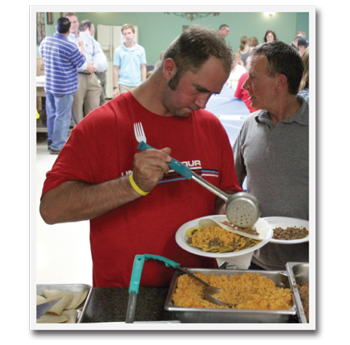 Your Gifts Are Needed
& Appreciated!
Hope Gospel Mission exists because of generous donors like you – regular people who join us in rescuing, rebuilding, and renewing lives in our community. Here are three ways you can donate. We also covet your prayers!
Donate by mail. Send a check to Hope Gospel Mission, PO Box 1127, Eau Claire WI 54702. Any amount helps!
Donate online. Click here to make a secure gift with your credit card.
Donate by phone. Call 715-552-5566 #1302 M-F from 10:00 am to 5:00 PM and we will help you make a credit card donation over the phone.

By Rob Gerber, Public Relations & Event Coordinator
Hope Gospel Mission hosted our annual Thanksgiving Day and Christmas season dinners again this holiday season. We enjoyed serving our guests who attended. Meals were also made available to shut-ins. We served 238 meals at Thanksgiving and 346 for Christmas. Thank you to the all the volunteers and donors who made this possible."To God be the Glory"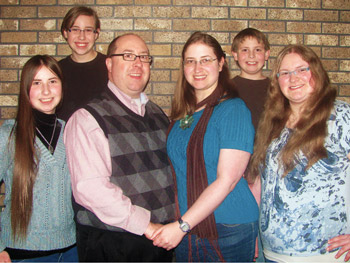 I'm the program director, and I oversee the resident's experience and programming opportunities, as well as support the expert staff that implements the day to day programming pieces. I've been with Hope Gospel Mission since 2005.
I like getting to know the men and women that stay here. I enjoy learning from the residents and watching their tears turn into smiles. I get to hear their stories when they experience joy again, and when they celebrate victories, and when they have encounters with God.
I felt God calling me to prepare for serving in a ministry, but did not feel called to be a pastor. When I did some volunteering with Hope Gospel Mission, and learned that the residents were not stereotypical homeless people, but rather people just like me who were asking for help to have victory over some area of their life, it was interesting to me and I wanted to know more. It bothered me that the residents were being judged by others for who they had been and what they had done, instead of being viewed for their potential and being viewed for who they were trying to be. I learned that the residents were quite amazing people who deserved a second chance. After watching Hope Gospel Mission help turn tears into smiles a couple times, it excited me and I wanted to be part of it. I wanted to come alongside these people and help them become all that God created them to be and have the future they deserved. I knew this passion and love for our residents was what God had been preparing me for.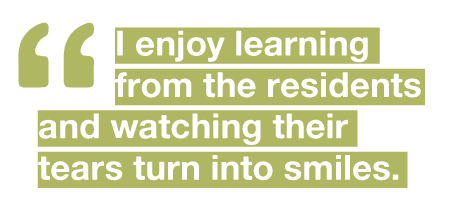 Some of the things that are most important to me are spending time with my family and helping others. I am involved as a leader in my church, and also work part time at another job that also allows me to serve others and make lives better. I feel called to be a servant and supporter of others who are trying to achieve great things. I enjoy reading, learning, traveling, and everything is better if people are laughing and smiling while they do it.
The number one thing that changes people's lives is how they respond to an encounter with Jesus. We try hard to create an environment that allows these encounters to happen. Our savior does more than save us, he completes us. Our counselors can lead people to the living water, but they can't make them drink. But if they do, they can experience joy unspeakable and peace that passes understanding and power to have victory over darkness and hope for something that seems unattainable. You are not required to be a Christian to complete our program, but by God's grace, Hope Gospel Mission introduces people to the magnificent opportunity of redemption.
As I watch miracle after miracle happen in the lives of the strong men and women that face their addictions and meet Jesus, the evidence increases for me each day. It is very difficult to work at Hope Gospel Mission and have doubts about your faith because you see God working every day.


Thank you to the following for your support:
Wells Fargo Foundation
Andersen Corporate Foundation
Arnold & Lois Domer Foundation
Northwestern Bank
Five Star Plastics



Celebration Dinner
Join us in celebrating the progress our residents have made and enjoy a delicious, free meal. Everyone is invited to attend. Program starts at 6:00 pm at 8 South Farwell
Street in Eau Claire on the last Friday of every month. Follow us on
Facebook here
to stay up to date with our events like our celebration dinners.

Free Easter Dinner
Join us for a free, homemade meal on Saturday, March 26 from 5:00 PM to 7:00 PM at 8 South Farwell Street in Eau Claire as we celebrate the resurrection of Jesus Christ from the dead and freedom from sin. A short program starts at 5:00 PM so arrive early if you want to participate.


Persons being honored are listed first.
Aaron & Dennis Halverson, Mr. & Mrs. Howard Hanson
Gerald & LaVonne Davis, Eugene & Laurel Buchner
My Children,
Peter & Ellen Adler
Adam Bauch of Augusta,
Joseph Worzella
Gerald, Bonnie & Angie Anderl, Rodney & Rhonda Bechard
My husband Bob Cook,
Maxine Cook
Agnes Donotelle,
Kelly Droege
Gladys Flory,
Susan Fox
My Husband,
Joyce Bratsven
Albert & Theresa Grill, Richard & Carol Olson
Glen Pelke, Jerry & Marlene Pelke
My Parents,
Diane Falkenberg
Arlo Little,
Gertrude Little
Gordon Hong, Sr, Angie Hong
My wife,
Owen Thompto
Bethany Lynn Mazur, Conrad & Judith Mazur
Gregory John Bredlau,
Dennis Bredlau
Nancy Allen,
Lisa K. Fields
Betty Fassero,
Paul & Beverly Ippel
Harold & Hazel Licht, David Licht & Susan Kolpien
Norma Jean Erb's Mom,
Lisa K. Fields
Bill Hansen, Sharon & Wayne Koenig
Harold,
Judy Ritter
Orville Myren,
Shirley Myren
Brad Tripp,
Timothy Kobernat
Help the Homeless,
Penny Helminski
Otto Ursin,
Martin Ursin
Brian Faust, Richard & Betty Flick
Inez Sipple,
Donald Sipple
Our family,
Gary & Kathi Bauer
Bruce C Atkins,
Ellen Atkins
Iris Secraw,
Ronda Hudson
Pat Fox,
Douglas & Beverly England
Bud & Becky Wilkinson, TheresaAnn W. Beck
Jake Mikkel Brown, Vicki Iverson
Patrica Sippy,
Cheryl Gygi
Cheryl,
Sally Ray
James Schoettle, Kathy Larsen
Paul Freeburg,
Stan Freeburg
Christopher, my son, Diane Barquist
Jannette Cohoon Peterson,
Jenna Peterson
Pierre George Pevan,
Deborah Beecroft
CJ Robinson & Lynne Farmer (2), Justin & Heather Knutesen
Jay Burnett, James & Amber Buck
Randy & Terri Acker,
Linda Bosinske
Clarence Fitzsimmons,
Mary Fitzsimmons
Jeff Conger,
Stuart Hamilton
Ray & Jo Fey,
Greg & Jacqueline Johnson
Clemens Roter, Rosemarie Roter
Jesus Christ our Lord, Donna & David Springer
Raymond Hatleli, William & Rhonda Iversen
Clifford H Stanford, Alice Stanford
Jesus Christ,
Bill Kelly
Richard Kuhman, Sheila Kuhman
Clifford H Stanford, Betty Grosvold
Jesus Christ,
Robin Shear
Robert & Carol Patten, Jeanne Briggs
Daniel R., Edith-Marie R. Hackbarth
Jim Coleman , Robert & Lorraine Soderquist
Rodrick Jacobson, David Jacobson
Danny,
Kristine Vieira
Jim Coleman,
Neil Hemenway
Ruth Hugh,
Kristine Vieira
David L. Beck,
Lee Ann Beck
John A. Kirst, Jacquelyn M. McCune
S. H.,
Patricia Nusbaum
David Miller,
Sandra L Mason
John D Schulner, Carol Schulner
Sally Ann Shaw, Robert & Teresa Parsons
David W,
Kim Hoffman
John Shinners, Scott & Gina Kircher
Samuel's Mom,
Lisa K. Fields
David W. Landgraf, Laurie Landgraf
Joy & Jean Jones, Jason & Andrea Jones
Shari Kay Kruger, Steven Kruger
Deborah Konkel, Carolyn Hathaway
Justin Biesecker, our son, Wayne & Susan Seichter
Shirley Krhin,
Eugene Krhin
Dick Given,
Martin Ursin
Justin,
Cindy Enger
Ted Swatzina,
Janet Swatzina
Dick Lundquist, Stephanie McMillan
Larry Wendt, Lorraine A. Hagen
The Comfort & Peace that Jesus gives,
Greg Gilbertson
Dick Toycen,
Ellie Toycen
Leland "James" Banker, Hall Realty Group LLC
Thomas Hebert,
J. E. & B. A. Robinson
Duane A Matye, Arlene Matye
Lennard L & Wally Lynch, Lois Lynch
Tim Johnson, David & Marilynn Johnson
Duane Freagon, Audrey Freagon
Lewis J Thompson, Mr. & Mrs. Vern Larson
Tom Cook,
Barbara Cook
Dudee Miles,
Edith Miles
Love & Peace To All, Gladys Klopp
Travis Schultz,
Lois Schultz
Earl, Ina, Arla & LeRoy Kostman,
Elene Stainer
Love & Peace To All, Weston Davis
Vernon Gullickson, Florence Gullickson
Elroy & Barbara Gunderson (2),
Peter Gunderson
Lucy Murray, Raymond Murray
Victor Ursin,
Martin Ursin
Ernest & Mable Bekkum,
John Bekkum
Maddie,
Cindy Enger
Vivian Tilseth,
Karen Olson
Eve & Bill Linneman, Maureen Scott
Mark Quam,
Stuart Hamilton
Volunteers at Presbyterian Church Food Pantry,
Wiley Law, S.C.
Gary Bailey,
Susan Fox
Marquerite Peg Simpson,
B. C. & H. Kees
William Bradford, Kristine Vieira
George Sommerfeld, Lou Ann Loomis
Mary Jane Tollefson, Tom & Bonnie Johnson
William E. Hitzemann, Sr., Katrina Clary
Georgia Jean, Thomas & Doris Zimmerman
William Grutzmacher, Yvonne Grutzmacher