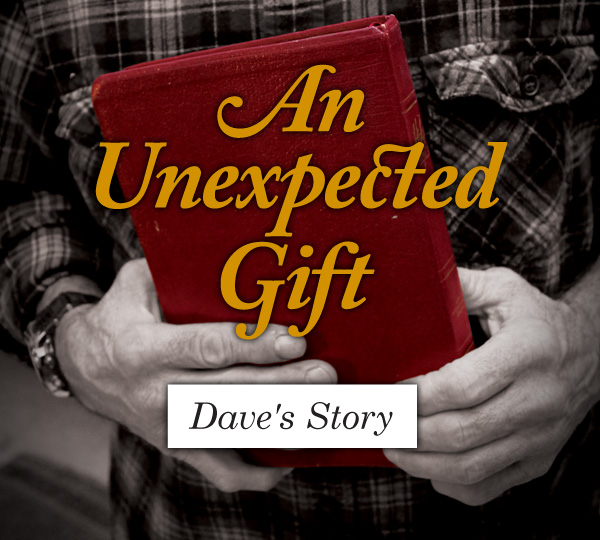 I started drinking when I was 12. My parents owned a bar. When they left me alone to go out to eat or something, I'd go down to the bar and drink, smoke, and play the jukebox. I liked the feeling of getting drunk. It would help me to completely escape reality. The euphoria of it was such a high. Of course I'd get hangovers and say I'd never do it again but that didn't change anything.
When I got into high school I ran into the same kinds of people. I would go to school drunk. I only got caught one time. When I was 14 I went into treatment and my dad was recovering. He was always pressing me about my drinking and I told him I didn't have a problem. I was in denial. By the time I was 18 there was no stopping me. I tried and tried and tried not to drink but I would drink and I kind of thought, "All my friends are doing this. This is normal. I'm going to grow out of this."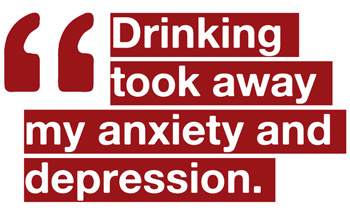 When I was 23 I ended up in a treatment center and from there, after a month, they sent me to Serenity House because they didn't think that I was ready to re-enter society. I went through the 6 month program, got a job, and met a chick. She was sober, too. We got married and then I was offered my job back at Sheldon, WI. We moved there and I stayed sober for 4 years. Then in Rhinelander, during a weekend vacation, we saw people going in and out of a bar and decided to go check it out. We decided we'd have a pop but when the waitress came we didn't order a pop and we both started drinking again.
My wife started having problems mentally. She was diagnosed as paranoid schizophrenic and I used that as an excuse to start drinking again. But it came to a point that I needed to stop drinking again so I could take care of our two boys because she was contemplating suicide. She made a couple attempts. When she threatened my younger son who was 14, almost killing him, that was it. That was around 1997. So we went to court and I got custody of the children and the house.
My drinking progressed. When my boys were 15 or 16, I'd take them to the bar with me. By the time they were 18 they were on their way also. They started getting picked up for drinking and driving.
Drinking took away my anxiety and depression. When I wasn't drinking, the depression was so bad that I had to drink to get to the point where I wouldn't worry about things. I had to drink in the morning. When I went to bed at night I had to make sure I had at least half a bottle of hard liquor for the morning otherwise I'd shake so bad I'd go into convulsions. The convulsions would be so bad from anxiety that I would have to use both hands to bring a cigarette to my mouth.
I would get angry and fight and went to jail more times than I can count because of battery and disorderly conduct besides the drinking and driving.. No one wanted to be around me. Because of my drinking my family didn't want anything to do with me. I ended up in Medford and I was sober for about a year. On my 4th offense I was working at an animal shelter and I had some squabbles with the manager there and I said, "To heck with it." I threw my keys on the table and went and got drunk. That same day I got picked up for my 5th offense and went to prison for almost two years.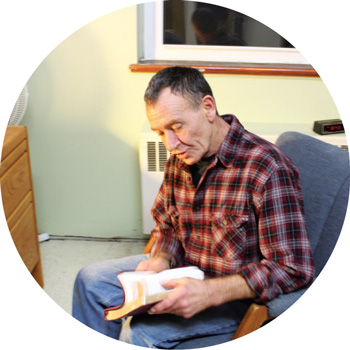 After I got out of prison I went back to Medford and stayed in a halfway house and had to wear an ankle bracelet. I got myself a good steady job and got my own place but started hanging out with the wrong people. They were drinking all the time and I felt sorry for myself and wanted to fit in, so I started drinking again. I found myself full of anxiety and full of depression again.
I was with a trucking company doing maintenance. I liked it so much I thought I'd retire from that place but the drinking started in again and pretty soon I wouldn't go to work anymore. I'd rather get drunk than be responsible. I didn't care about anything but keeping up the euphoria. Then I got evicted.
I came to Hope Gospel Mission with a lot of anxiety and depression. I had a choice of whether I should become closer to God or not. I always believed in God, but I didn't know Him. I would only go so far in the spirituality part of AA before I would just stop. I would tell myself that it was too hard to live the way Christians live. I didn't want to be that good! I was set in my own ways and I was going to do things my way. My way didn't work in life so I started praying more and reading the Bible. I met these people in church and they had something that I wanted. They seemed to be joyful and at peace and I wanted that. I kept on praying, reading the Bible, and going to church. I started changing. The more I went, the more I got out of it.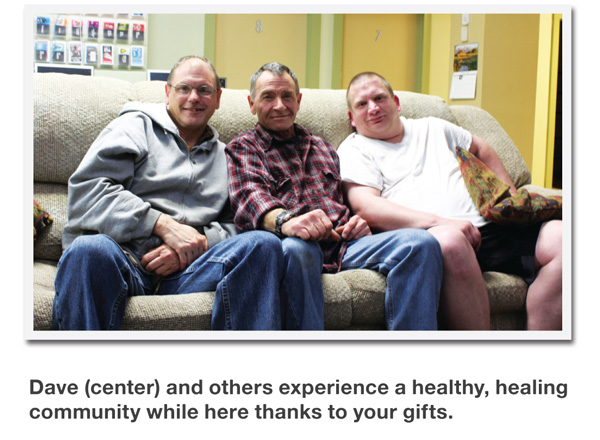 Now I look back and think, "Who was that person?" I used to feel so sorry for myself. Now I feel very joyful. And what's really great is that now that I've become closer to God, the anxiety and depression are gone. I never thought that could really happen. I thought those Christians were just putting on a show… but it's real! It happened to me. And now when I die, I'm promised life eternal with God!
My relationship with my family now is great. My oldest son has been sober for 8 years and my youngest has been sober for a couple of years. They're both good now and have kids. We're all going to get together at Christmas and I'll get to see my 4 year old granddaughter for the first time. My youngest son is kind of like a prodigal son but we're talking on the phone and he tells me he loves me at the end of every conversation.
I am grateful for those who give to Hope Gospel Mission for giving us another chance at life. I look and see people sleeping under the bridge at night or on the streets and being hungry. These donors – if they could just see how much they're helping. They're saving lives. They're helping a lot of people. I really thank God for this place and for the people who donate to this place.
Thanks to your support, men and women like Dave are being helped every day. Your gifts are needed to help provide food, shelter, and programs to help many in our community.
To help with a financial donation, please click here or call 715-552-5566 to speak with one of our staff members.
We need volunteers too! Call Kyle at 715-450-2571 or click here to see open positions and fill out a volunteer application.
We also cherish your prayers. Receive our periodic prayer emails by signing up online here.
Need prayer? Send an email to questions@hopegospelmission.org or a letter to PO Box 1127, Eau Claire, WI 54702 and our staff will pray for your request.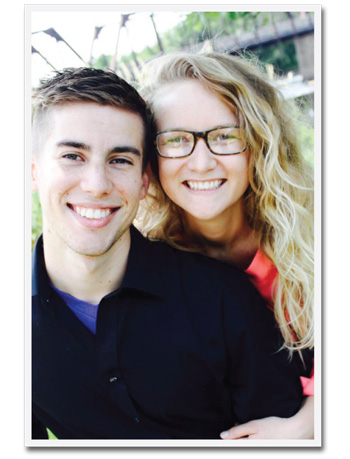 My family is originally from Texas and we moved to Wisconsin when I was very young. I have an older sister and no younger siblings. In October I married my beautiful wife, Samantha, who is a wonderful blessing to me.
My current title is Residential Operations Manager & Vocational Adviser. In my role as the ROM I oversee the living facilities and the staff that work in them. I help ensure that both staff and residents at the mission are cared for and have a safe living and working environment. As the VA I work with residents in the Renewed Hope Program on building job skills such as interpersonal skills, developing a good work ethic, and resume building.
My favorite thing about working at HGM is that it keeps growing me as a man. In order to meet the variety of challenges that occur in our ministry I must keep growing in my personal character, spiritual life, and continue to expand my knowledge of the issues that so many people are facing. I can truly say I learn something I didn't know almost daily. I enjoy seeing growth in both my team and the residents that I work with, train, and learn from.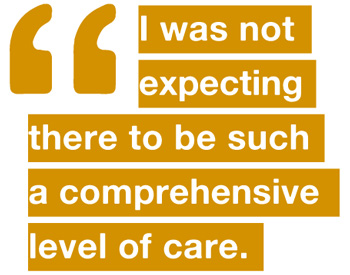 Something that surprised me when I started working here was that for a mission this size we offer a lot of help in different areas for those that desire it. I was not expecting there to be such a comprehensive level of care.
When I first began working at HGM I started as the Academic Adviser at the Solomon Learning Center, so I worked with residents on basic education skills. I remember working with one woman who was convinced that she would never learn some of the math we were working on. Seeing her not only complete the math, but complete the program, and seeing the confidence and self-worth she gained throughout was something that ministered to me because it reminds me that any person can overcome the obstacles when they have someone investing the time to support them.
I want to thank the readers for the time and support they give to Hope Gospel Mission. I personally get to see the fruits of their gifts and love. Every bit of support, whether it's time, prayer, or money, helps make a difference in the life of someone.


Thank you to the following for your support:
Andersen Corporate Foundation
AnnMarie Foundation
B.A. Mason Trust
Five Star Plastics
Nordson Corporation Foundation
Rutledge Charities
Walmart Distribution Center Menomonie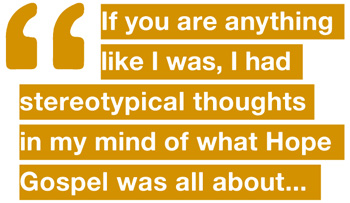 In June of this year I made a life change and started working for Hope Gospel Mission in Eau Claire, WI. I didn't realize what a neat organization this is and how big of an impact it makes in so very many different ways from changing people's lives to keeping so much discarded stuff out of the waste stream. Part of my role at HGM as the Public Relations person is to show our organization to any members of our community that are interested, in order to build an awareness of what we do at Hope. If you are anything like I was, I had stereotypical thoughts in my mind of what Hope Gospel was all about, as it turns out it is way more important than I ever realized! I would like to offer a tour of our organization to anyone that is reading this. I hear after and during tours from my guests "I had no idea", "Wow", and "That's amazing!" Please come and be my tour guest so that I can show you! Please take me up on this great opportunity! Thank you.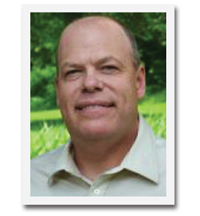 Rob Gerber
715-552-5566 x1303
robg@hopegospelmission.org


Free Thanksgiving Day Banquet
Join us for a delicious meal of turkey, potatoes, fresh bread, and more on Thanksgiving Day, noon to 2:00 pm at 8 South Farwell Street in Eau Claire.

Celebration Dinner
See how your gifts are making a real diffference in our community! Join us on the last Friday (normally) of every month for a celebration of the achievements that residents have made through your support. Free meal included! 6:00 PM at 8 South Farwell Street in Eau Claire.

Free Christmas Season Dinner
Enjoy a delicious homecooked meal on Saturday, December 19 from 5:00 pm to 7:00 pm at 8 South Farwell Street in Eau Claire. Bring family and friends! Thanks to donors like you who make this possible.


Persons being honored are listed first.
| | | |
| --- | --- | --- |
| Edith Ailie, Edith Ailie Family--Carol Sangren | Helen Larrabee, Clarice Fall | David Miller, Janice Steiner |
| My sister, Marlene Berlin, Robert & Jan Wickstrom | Dale Larson, Kathy Larson | David Miller, Randall or Jodi Welch |
| Elroy Dahlin, Glenn & Julie Schumann | Doris Mai, Michael & Melissa Olson | David Miller, Walter & Susan J. Klein |
| My husband, Edward, Joyce Louviere | Donald Meyers, Carol Bakke | David Miller, Merrylin S. Pederson |
| Lorette Engen, Bonnie Svee | Mike, Regan or Carolyn Krieger | David Miller, Marilyn G. Smith |
| CJ Robinson & Lynne Farmer (3), Justin & Heather Knutesen | Dudee Miles, Edith Miles | David Miller, Daniel or Carolyn Johnson |
| Rose M. Flanders, Royal Construction, Inc. | David Miller, M. A. or D. K. Johnson | David Miller, Jack & Carol Bartingale |
| Eugene Gehr, Shirley Gehr | David Miller, Amy Doughty | John Miller, Mary Knudtson |
| Jesus Christ, Messiah Redeemer, God, Amber Guerrero | David Miller, Robert W. Baird & Co | My beloved husband, Jon, Dolores Smiley |
| Margaret Gutche, John & Alice Droske | David Miller, Gloria Gold | My Dad (2), Carol Reinecke |
| Roger Hillery, Sheila & Anthony Kvapil | David Miller, Jeffrey or Trina Wollersheim | Myron Post, Sylvia Meyer |
| Homeless help, Robert Hanford | David Miller, Kenneth & Gloria Anderson | Erma Quilling, Carol Bakke |
| Gordon Hong,, Sr., Angie Hong | David Miller, Rita Veitch | John Ramharter, Bill & Ardell Kurtz |
| Bill Hopkins, Kelly or Michael Blake | David Miller, Virginia Everson | Renee Riley, Jeanette & Morris Riley |
| Lorraine Jacoby, Michael Jacoby | David Miller, Roger & Joan Stolp | Janet Schaefer, Dale & Janice Albricht |
| Lester & Cheryl Janke, Jean Janke | David Miller, John & Vivian Vaudreuil | Beverly Susman, LaVerne Ausman |
| Jesus Christ, John & Karen Knickerbocker | David Miller, Janet or Robert Merritt | Michael Todd, Karol Todd |
| Olga Johnson, Susan Anderson | David Miller, Carol & Michael Pickerign | Otto Ursin, Martin Ursin |
| Marilyn Koehler, Kevin Koehler | David Miller, Edgar or Elizabeth Hicks | Victor Ursin, Martin Ursin |
| Earl, Ina, Arla & LeRoy Kostman, Elene Stainer | David Miller, Sue Kristo | Dick Given, Martin Ursin |
| Everett & Goldie Larrabee, Brian or Norma Gabriel | David Miller, John or Julie Sirianni | Erma Zwiefelhofer, Bill & Ardell Kurtz |
| | David Miller, Patricia A. Schuster | |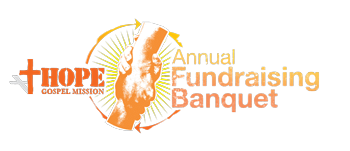 Hope Gospel Mission hosted its annual banquet on September 29th at The Florian Gardens.
The program included hearing from a resident in our Renewed Hope Program. John Ashmen, president of the Association for Gospel Rescue Missions, spoke to us on homelessness in America and the rise in homeless women with children. Craig Pedersen explained the face of the homeless in our area and shared our plans to serve more people in need of help.
Thank you to the sponsors, guests, volunteers, and staff who helped make this year's banquet a very special time together. We had many first time guests and received $40,000 in donations to help the men and women we serve.