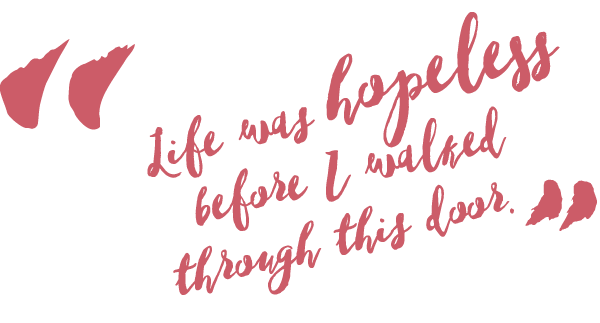 I've been an alcoholic since I was about 15 or 16. That's all I knew to do because my parents would drink when they were happy or sad or whenever. To go to church was abnormal, to drink was normal.
When I was in high school, I was in a bad car accident when we hit a car head on. The driver of the other car was a woman who had just gotten over cancer. We hit her so hard she became paralyzed. Our driver had a punctured lung; the guy to the left of me had his face blown apart. I only had 12 stitches and everyone else had 3 months of shock trauma.
My mother said I had a guardian angel watching out for me. That angel has saved me many of times. One time I got thrown off a motorcycle going 100 miles an hour; we were slowing down from 140 miles an hour. I only had two broken ankles; the driver lost a leg and an arm. But I was off to drinking again, getting into trouble. I was a mess.
At 33 I stopped drinking. God was really good to me, my wife, and children. We had a beautiful home, 4 cars, and I worked for Giant Food on the East Coast. But they sold the company and got rid of everyone who was making big money. I started drinking again. I lost my wife and my children. I've been battling since 2005 to get sober again.
I came here to live with my brother in 2013 because I was healing from a shoulder operation. I had hurt it lifting weights. After the surgery, I hurt my back. I couldn't work or feed myself so I came to live with my brother. I started getting a little better but went back to work too soon and hurt my shoulder again. Then my brother got breast cancer! I didn't have insurance and I was in pain. I hadn't drank in five years. I started drinking again and that ended up real ugly. I was homeless. That winter was the real cold one. I wasn't used to that! I'm from Maryland, near the ocean! I couldn't believe how cold it got.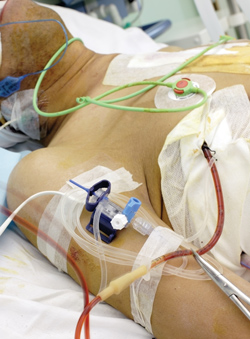 August 20th of 2014 was the last time I had a drink. It triggered a stroke and I was in a coma for three days. That's when things really got bad. They couldn't believe I woke up. They were waiting to cut my skull open as a last resort to release the pressure on the back of my neck. I was breathing off a machine. But I was paralyzed and didn't know anything. I sort of knew my name. I couldn't see – except for a big black dot out of my left eye. I thought it was going to be that way the rest of my life.
I came out of the coma, they had stuffed a tube down my throat to breathe for me. I started chewing on the hose because it was uncomfortable and they'd yell at me but I kept chewing on that hose. So I woke up and they had that thing in my mouth, tube down my throat, and tubes in my nose and the machine just stopped working. I was awake and I knew what was going on but I couldn't do anything about it. I couldn't breathe. I thought I was dying. It was peaceful. I just had to close my eyes. Then I came to and I was still alive.
What I've been through is a miracle. Neither I or the doctors could believe it. I felt like a newborn baby though because people had to do everything for me. I didn't know my name or where I was. I couldn't retain memories.
For about a week I was hallucinating – moving ceiling tiles, Japanese people looking at me etc. It got real bad because I started thinking a mad scientist was feeding me.
I was laying in bed, couldn't move or feed myself, when a male nurse came in (I had a pulse detector on my finger, they were waiting for me to die) and asked, "Why do you keep tearing the detector off your finger?" I answered, "'Cause I'm really, really thirsty!" So the nurse put a cup in front of me and told me if I could pick it up that I could have as much water as I wanted. It took me nearly an hour, but I did it. I learned that I just had to keep trying if I wanted to do anything. Eventually I started trying to walk and everything started coming back faster and faster. I thought for sure my balance was done because I'd fall right over, but I kept trying. I'd get back up, I'd fall down. Then I'd start walking towards the right all the time. I'd bump into the wall and come back. I didn't have a sense of balance. They kept telling me that I was a miracle. Everyone else in the stroke ward was in terrible shape. But here I was making it. I did a lot of praying. My brother's church prayed for me and I swear those prayers were answered because there's no way to explain how someone can go from being paralyzed to now.
I haven't had a drink since I had that stroke. My belief in God has gotten even bigger. God's molding me. I enjoy learning from the Bible now; before I wouldn't touch it. The only bad thing is, I can't remember it due to the effects of my stroke. I can read it for a couple days and still not remember it. After a few days I can pick up bits and pieces.
I'm staying in touch with family more. I'm not ashamed to talk to them. I can be honest with them now; before my low self-esteem kept me from being honest with them.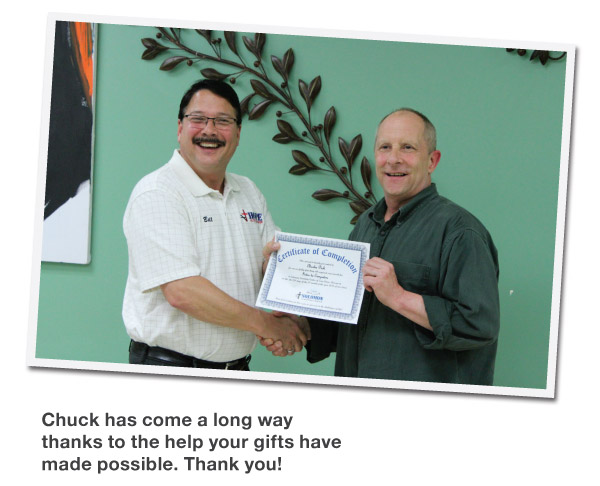 I don't want people to say of me, "Chuck was a pretty good guy but he couldn't stop drinking so he died." I have my courage back. Life was hopeless before I walked through this door. That's why I came here: hope. I didn't like myself or my situation. All I wanted to do was die. Today I want to live and have fun! Before I couldn't have fun. I was so depressed and so sad.
Hope Gospel Mission is a lot better than I expected. I was in a homeless shelter up north. That was rugged! People here are trying to help me, not treat me like a number. They're giving my skills and helping me to rebuild the skills I had before but was too messed up to use. They're giving me coping skills and training skills. I'm just so grateful that my brother stumbled onto this place because I thought every homeless shelter was like the one I had been in up north. I wasn't going to last much longer I was so depressed. Jail was much nicer than there.
It was hard for me to be humble because I just got out of jail and you can't be humble there! I don't want to get back to what I used to be. It was a dark pit. It was horrible and my family couldn't do anything for me. They were worried to death about me. They found HGM and I'm not looking back. I'm looking forward to not being afraid or depressed. Before coming here I was on 15 different meds to treat the symptoms but not the problem. This isn't just a new start; it's a giant leap forward.
Everybody has helped me. It's hard to single out one person. Clinton, Mike, Bill: they've always been there for me and treated me with respect. I just feel comfortable around them. I am teachable now; I can do what they tell me to do. I need people to help me think now so I go to them to see if I can afford to go places and do things that I want to do. I used to think I was on top of the world, but my ego is finally gone. Dan, Carl, they all help me.
I think it's amazing that everything we get here is from donors. I have been so self-centered my whole life. I can't imagine giving food, clothes, furniture… I have seen people go so far out of the way to help the homeless. I can't believe it! I used to be so ashamed about being homeless until I saw everything people do for the homeless. It made me feel better because they knew I was struggling and didn't want to be homeless the rest of my life. Now there's always a hand to pick me back up. Now when I wake up, I choose to be happy. I'm having fun, finally. It's been 10 years since I've had fun.
Thank you for your financial and prayer support that help men and women like Chuck rebuild their lives.
To help with a financial donation, please click here or call 715-552-5566 to speak with one of our staff members.
We need volunteers too! Call Kyle at 715-450-2571 or click here to see open positions and fill out a volunteer application.
We also cherish your prayers. Receive our periodic prayer emails by signing up online here.
Need prayer? Send an email to questions@hopegospelmission.org or a letter to PO Box 1127, Eau Claire, WI 54702 and our staff will pray for your request.


My name is Rob Gerber. I have been married to my wonderful wife Jennifer since 1996. We live in Chippewa Falls with our two daughters Elizabeth (16) and Alison (9 soon to be 10). Our family enjoys spending time biking, walking, fishing, and having campfires among other things. Jesus is the love of our life and we seek him daily for direction.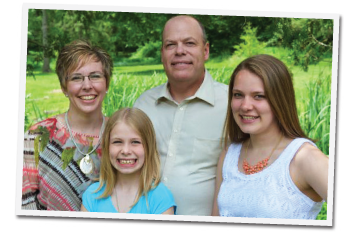 I started working for Hope Gospel Mission on June 1, 2015 and one of the things that I enjoy the most is working with all of the people including my coworkers, the residents, and the people that faithfully support our mission. I am a businessman at heart and have been involved with owning and developing various businesses in my life. Most recently I was the president of two companies selling one in 2009 and the other in 2012. For the past three and a half years while working for the Chippewa Falls School District I was seeking God's plans for the next chapter in my life. I am excited to be working in a position where I can use my business skills and abilities while being missional. I know that The Lord has ordained my positioning into this incredible opportunity to serve as the Associate Stewardship Director here at Hope Gospel Mission where my focus will be on public relations and development.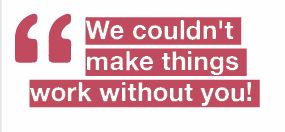 One thing that I would like to point out to our readers is how important each and every one is to the success of our mission through the donation of their time volunteering, donations to The Bargain Center and Building Hope, their financial support, and prayers. We couldn't make things work without you! Thank you!
I would like to invite you to contact me and set up a personal tour so that I could have the opportunity to meet you, introduce you to some of the wonderful people, and show you some of the amazing things that happen behind the scenes here at Hope Gospel Mission. It is very rewarding to see how Hope Gospel Mission cares about people and the community by helping to change lives and provide hope. I can't wait to see what the future holds for Hope Gospel Mission.
Rob Gerber
robg@hopegospelmission.org
Office 715-552-5566 ext. 1303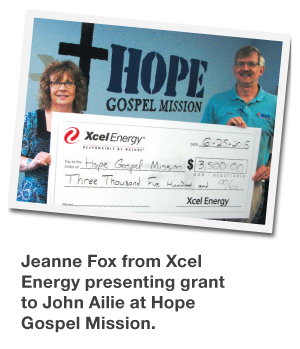 Thank you to the Eau Claire Community Foundation for the program grant and the asset grant given to Hope Gospel Mission for our Renewed Hope Program and Solomon Learning Center that provide life-changing help to the men and women we serve.
Support was provided by the Dick and Marlene Cable Family Fund, the Charter Bank Eau Claire Fund, the Susan and Roger Tietz Fund, the Lois and Arnie Domer Fund, the Dean and Susan Olson Family Fund, and the Daniel F. and Margaret J. Brown Memorial Fund of the Eau Claire Community Foundation.
Thank you to Xcel Energy for the Economic Sustainability grant awarded to Hope Gospel Mission for our Renewed Hope Program that provides life-changing help to the men and women we serve. Our Renewed Hope Program provides holistic, practical training in eight areas of human health and well-being that equips our residents for independent, self-supporting living.
Xcel Energy's grant is part of the company's corporate giving Economic Sustainability focus area, which supports nonprofit organizations like Hope Gospel Mission whose motto is "Lives Rescued. Rebuilt. Renewed."



Annual Fundraising Banquet
Join us for a free meal and an inspiring program on Tuesday September 29 from 6:30 PM to 8:30 PM at the Florian Gardens in Eau Claire. Learn how your gifts empowered so many men and women over the last year and get a peek at how your support will make a difference in the next year. Seats are limited. Please reserve your seats by calling 715-552-5566.

What others say about the Banquet
"We had a really meaningful time at the banquet. It was a blessing for us to get invited deeper in to the heart and mission of HGM. We got to meet the people we were supporting, hear powerful real life stories, and get more involved in the life saving work of Christ. HGM has big dreams to impact more and more people and families and we were excited to be included in their work by attending the banquet."
— Josh & Nicole Rizzo
"We felt very good about coming. The meal was super, as was the program. We feel our money goes for a good local cause."
— Vern & Shirley Anderson

Free Thanksgiving Day Banquet
Join us for a delicious meal of turkey, potatoes, fresh bread, and more on Thanksgiving Day, noon to 2:00 pm at 8 South Farwell Street in Eau Claire.

Celebration Dinner
Join us on the last Friday of every month for a celebration of the achievements our men and women have made. Free meal included! 6:00 PM at 8 South Farwell Street in Eau Claire.


Persons being honored are listed first.
| | | |
| --- | --- | --- |
| Gloria Ziegler-Childs, Gail Urban | Gordon Mittelstadt, Rodney or Ellen Maukstad | Marci Szymanski, Louise or Jim Sneen |
| William J. Cigan, Patricia Cigan | Edna Mooney, Erwin and Kris Steiner | Ted, Jan Swatzina |
| Keith Drew, Mr. or Mrs. Howard Hanson | My wife Joyce, Owen Thompto | John Thompson, Osseo, Mr. or Mrs. Howard Hanson |
| Lynne Farmer (3), Justin & Heather Knutesen | Our children and grandchildren, William and Carol Clark-BR | Michael Todd, Karol Todd |
| Edith Freeman, Cindy and Vernon Freeman | Raymond Raether, Donna Miner | Victor Ursin, Martin Ursin |
| God, Jesus Christ, Messiah, Redeemer (3), Amber Guerrero | John Ramharter, Bill & Ardell Kurtz | Otto Ursin , Martin Ursin |
| Ron Knudston, Mr. or Mrs. Howard Hanson | Jan Meyer Riemer, Cindy and Vernon Freeman | Kenneth Zurcher, David Zurcher |
| | CJ Robinson (3), Justin & Heather Knutesen | |