Q. Can you have a degree in chemical engineering, speak three languages, and still become homeless?
That was the case with Rachel, one of our short-term residents who stayed with us.
It was the start of the cold snap last fall. Rachel had just left her boyfriend and father in Texas and had moved to Wisconsin in hopes of finding better employment. She found an apartment that she shared with a few other people. But a roommate became abusive, so Rachel decided it was time to leave. But Rachel didn't have the money to put towards another place to live. She was suddenly homeless.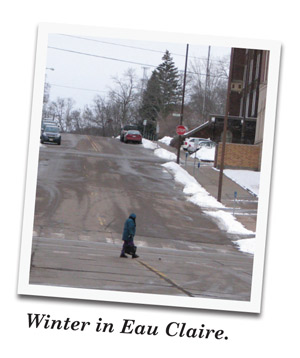 Rachel spent her days at the public library in Eau Claire and then her nights at whichever shelter had room for her that night. Eventually the burden of being homeless in such cold weather became too hard to endure.
She had heard about the Ruth House and decided to apply for the Short Stay Program so that she could have a stable, warm, and safe place to live.
Rachel didn't have an addiction, but she still needed our Short Stay Program. About 15% of our clients don't have addictions. And, like Rachel, not all of them need a long-term program. Sometimes they just need a safe place for a short time while they look for work, housing, or save up for a trip back to family. Thanks to your donations, we are able to provide safe lodging and meals to men and women during these winter months.
What does your donation help provide?
Your donation also provides for the needs of men and women going through our long-term program that addresses the root causes of homelessness and addictions. What do I mean by that?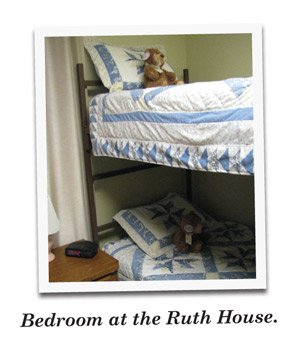 Our long term program – the Renewed Hope Program – involves eight different areas of life where we help our residents. These include addiction counseling, job training, nutrition, academic classes, and more. Each client meets with our staff for each area of life for an assessment. Of course, every person is different! So we come up with goals to address the biggest issues in our client's lives. They work on their goals and meet with our staff regularly to check in on how they're doing. This holistic, life-changing program is made possible through your donations. When they graduate from our program, they have $3,000 in savings that they've earned, housing of their own, sustainable work, a local church community to help them grow and be there for them in times of trouble, a car donated to them through our Auto Sales Program, and more.
Your donation makes a truly big difference in the lives of our men and women, whether they've been here just a couple days or are working on changing their lives over the course of a year.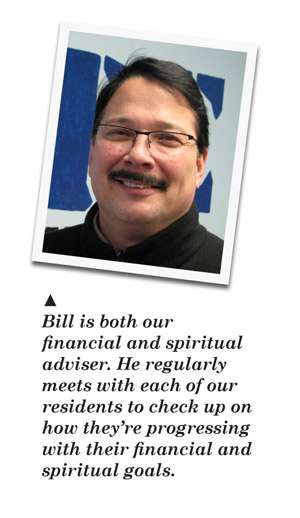 The winter months are the most difficult for us to operate because of the sharp drop in donations. But that also means that if you donate in any amount, your gift will have a greater impact than usual.
So how did your past gifts help Rachel?
Once she was accepted into our short stay program, our Ruth House staff was able to transport her to medical appointments, encourage her with learning how to cook and do household chores (skills she'd never learned), and coach her through issues of personal hygiene, which she struggled with. Because she also struggled with handling money, our financial adviser, Bill, helped her create a budget and develop methods to help her manage her money.
Eventually she saved up enough to make the return trip to Texas. Rachel called us soon after to tell us that she'd made it there safely and was so grateful for her time at the Ruth House.
Will you please make a donation today to help the men and women in our homes? Many of them have literally nowhere else to go as temperatures drop. Will you be the supporting hands that help our residents through these winter months?
Joyfully serving with you,