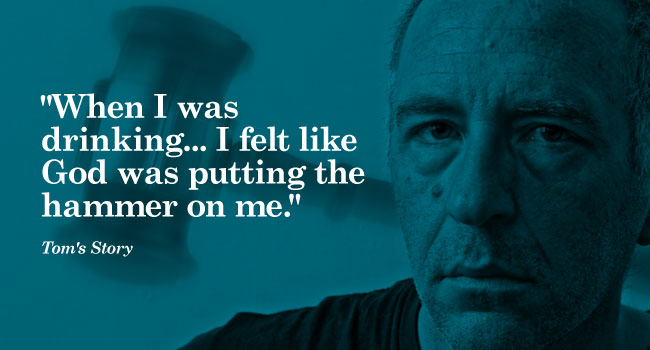 I'm the second oldest of eight kids. I was raised in Bloomington, MN (Which is now about half a mile from the Mall of America). I went to Catholic school until second grade. Mom and Dad kept having babies and it got too expensive for us eight kids to go to private school so I went to public school once we moved from Duluth to Bloomington.
My father was an alcoholic. Most of my siblings have had problems with drinking and drugs too. My brothers and I played hockey all the way through grade school but after a while we couldn't stand the coaches or the jocks so we quit. But once hockey was done for us, that's when we found drugs and alcohol.
We attended church regularly. But I wasn't too involved outside of having to go every Sunday.
I graduated and went into the service from '76 to '79, right after the Vietnam War. Went over to Germany. Started out as an MP.
I'm a second tenor, although I can sing first tenor and baritone too. I had three years of voice lessons growing up. So after being an MP, I went into the Army Choir and I spent three years traveling Europe putting on shows. It was the best job ever. However, part of our job was socializing after the shows, which means drinking. I had dabbled with drugs in high school but drinking had always been my problem, which only accelerated once I was in the service.
I basically hadn't been involved in any type of a church or anything after I went into the service and after I got out.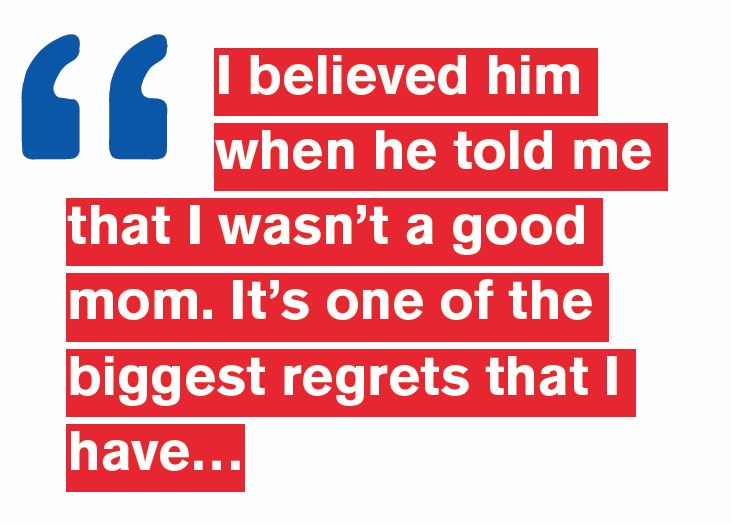 I was losing jobs, places to live, relationships… My addiction was draining my family, girlfriend, friends, everyone. I've lived in either Minneapolis or Saint Paul for many years, depending on where I could find a place to live.
I became sober for a five year, almost six year stretch. I went into the Salvation Army ARC program. That was six months long. Then they hired me. I was an intake coordinator and a resident manager for a year. After that I decided to go to school to get my counseling license. I went to Union Gospel Mission in the Cities. I had been through their Christ Recovery Program before. They had an opening for a resident manager. I did that, went to school, and then spent a couple years as a counselor.
I was living in northern Minnesota as a counselor doing retreats for a non-profit treatment center. I was taking care of everybody else but not myself. I started drinking again in 2008 and haven't been able to get my life back on track. I was living in shelters, friends' places, veterans' homes, and sometimes spending nights on the streets.
I moved to Chippewa Falls because of the Veterans Assistance program there. They put me out for drinking, so I stayed at the Sojourner House in Eau Claire for a few days.
I knew that in order to get my life back on track, I had to get involved again with my faith because the only time I had ever had sobriety in my life was when I was strong in my faith. I knew that if I went back to another vets home that it was inevitable that I would just fail again.
One day while I was at the library killing time I noticed Hope Gospel Mission's men's shelter building and came over. I spoke with the staff, got an appointment with DeAnn (Intake Specialist), and was accepted.

When I was drinking, I either felt like God didn't exist or that he was "putting the hammer" on me, that my purpose in life was to be his "toy," to be crushed at every opportunity. I didn't see it as a "love/hate" relationship but as a "hate/hate" relationship.
Now I'm feeling fulfilled not just materially but spiritually as well. That's why I came here. The focus is on Christ.
I came in with an attitude of surrender. I was thinking "Lord, you led me here for a reason." My biggest surprise and first challenge was the amount of rules there are. I found out that a lot of rules are there because of other people's behavior in the past. That sort of infuriated me at first. I didn't like that people who didn't even live at the home anymore caused this rule to be established that I have to live under now. It was really frustrating.
But after talking with Chris (Program Director) I realized, how can I obey the Lord if I can't obey man? One of the prayers that I say to myself in times of frustration is "This too shall pass." There's a reason I'm going through this right now. It's just for the moment. So I try to learn the lessons that the structure offers.
I'm now giving thanks and praise to God every day. I'm getting outside of myself and thinking about others and how I can be of service to them as the Lord commands us to. It's taken away a lot of my cynicism and jaded views of life. It's basically softened my heart. For example, there are personalities within the Mission that really rub me the wrong way. It got to the point where I was thinking about leaving. But then I had a chance to go up with Dan (Resident Advisor) at his cabin in the Northwoods and spend some time alone and think about life. I realized that they didn't have the problem, I did, and I was being judgmental and self-righteous. So the problem was with me! They still drive me nuts sometimes but instead of talking behind their backs or tearing them apart in my mind, I pray for them. I pray for myself too.
Family-wise, I'm still estranged. They want to see the proof in the pudding before connecting with me again. They're worried and concerned for me but they're tired of hoping I'll do well only to see me fail again. I'm in touch with some of them but I've caused a lot of pain, so I'm keeping my distance on purpose.
When I first started going to the Wesleyan Church, the first couple weeks I just watched everything. I really like the pastors there. I've never been to a church with four pastors before so it's rather interesting! Everything they teach is scripture-based. I've started greeting at the door. Now I'm serving communion. I'm going to be doing a solo in a couple weeks. God's given me the gift of singing and I want to share for his praise. I also have a mentor from my church now. We do Bible study and fellowship together.
I'm in the Work Readiness Phase. I have a couple more classes to go through. I'll be ready to start looking for work in March. I'd like to get back into working with people like myself, though not as a licensed professional. I've also worked with the mentally challenged before and would be interested in getting into something like that. I want to do something where money's not the reason I'm working.
After the Mission, I'm looking forward to being able to cook, eat, watch what I want to and getting back in touch with friends and family. I'm looking forward to finding and following the path that the Lord has put on my heart.
To guys coming into the program behind me, here's my advice: This is a difficult program but the structure's there for a reason. You're going to get out of it what you put in. Be obedient as unto the Lord. Realize that you are here for a reason. Take advantage of all the opportunities afforded, not just in the program but in your church as well.
Please pray for Tom and others in our homes as they seek to leave addictions and mistakes behind, embrace a new life of sobriety and purpose, connect with their church families here in the Chippewa Valley, and for them to be able to reconnect with family. Join our Prayer Partner Team online here. Make a gift to help more men and women like Tom online here.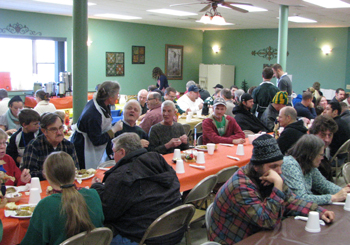 Thanks to all of the many donors and volunteers who made our Thanksgiving and Christmas dinners a success! To celebrate the holidays together as a community, we served hundreds of individuals and families a home-made, delicious meal at the House of Hope Men's Home.


Join our Prayer Partner team and get periodic prayer updates from our Executive Director, Sandi Polzin.
Join online here
.


Tell us a little about yourself.
I grew up in Western Pennsylvania, met my wife in Colorado, and we moved back to Wisconsin where she is from after we had our first two children. Today we have three children, Abby who is 10, Gracey who is 8, and Gabe who is now 3. In the past I worked as a commercial electrician for 10 years before going back to school at CVTC to get my associate degree in alcohol and drug counseling. I am currently finishing up my bachelor's degree in Religion and Christian Ministry from Liberty University Online. One of the most rewarding things God has blessed me with in the past few years has been the opportunity to serve as an elder at The Bridge Church, Eau Claire. Much of the experience I have gained from serving at The Bridge has gone a long way in preparing me for this new position at Hope Gospel Mission.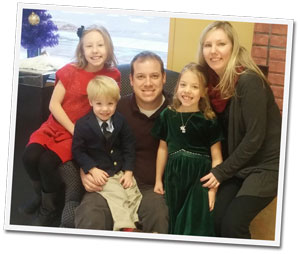 How long have you been with the Mission?
I started with Hope Gospel Mission about two months ago.
What drew you to Hope Gospel Mission?
I have wanted to work for Hope Gospel Mission since I moved to the area in 2006 because I knew that they were a Christian ministry that served the most hurting people in our community.
What is your title and what do you do for the Mission?
My title is Addictions Advisor and I work with the residents to help them overcome addiction issues while they are here at the Mission.
What do you like about working at the Mission?
So far, my favorite part of working at the Mission is all the great people I get to work with, both employees and residents.
What might be something interesting that our readers might not know about Hope Gospel Mission?
What you might not know about Hope Gospel Mission is how much support they provide the residents in all areas of their lives. This includes so much more than the just the area of addictions. Areas like financial, vocational, spiritual, academic, life skills, mental health, and nutrition. It really takes a holistic, long-term approach to serve our residents.
How does the Mission minister to you?
I have been encouraged by just how welcoming and patient everyone has been as I have been learning the systems and culture of the Mission.



Celebration Dinner
Join us in celebrating the achievements of our men and women in our homeless/addiction recovery programs. Free, delicious meal included! Friday, January 30 at 6:00 pm at 8 South Farwell Street in Eau Claire.

An Evening with Collin Raye
On Sunday, February 22 join us for a benefit concert for HGM with platinum-selling country music artist Collin Raye at 6:00 pm at the State Theater. Includes a performance by Mike Lewis, the Jesus Painter. Mike brings faith to life in living color through live painting performances, artistic workshops and training the next generation of artists. Tickets are $36 each.
Click here
to learn more and purchase tickets.

Easter Dinner
Join us on Saturday, April 4 from 5:00 pm to 7:00 pm at 8 South Farwell Street for a delicious, home-made meal and a celebration of the resurrection of Christ Jesus! Program starts at 5:00 pm, so arrive a little early to find a seat. Meal is free to all.


Persons being honored are listed first.
| | | |
| --- | --- | --- |
| Ernest and Elizabeth Topper, Anna Suvada | Jack Gustaveson, Jack and Pat Gustaveson | James Byers, Nancy Byers |
| Chuck Malone, Annette Malone | Bud Drexel, Jack Doerr | William Airth-Kindree, Norah Airth-Kindree |
| June Rank, Arlys Mulnix | Family, friends, and loved ones, Jacob and Betty Vitek | Ross Gjerning, Patrice Gjerning |
| Duane Freagon, Audrey Freagon | Suffering souls and homeless, James or Linda Dahm | David Baus, Peggy Ryan |
| David Baus, Avaneesh Marwaha | Sgt Andy Stevens, USMC, John and Kaye Olson | Elizabeth Gehrke, Penny Gehrke |
| Lincoln (Lonnie) Lokrantz, Barbara Lokrantz | Dan Ankrum, Joy Colville | Jon Earpenbach, Peter Lilly |
| Christopher J. Wood, Barbara Thomas | Laura Brimson, Julie and Peter Lea | Husband Don Purnell, Ramona Purnell |
| Ann Raether, Bonnie Armstrong | Michael Todd, Karol Todd | Jeff Murray, Raymond Murray |
| David Baus, Bradley Berlage | Others in need of direction; honor of family, Kenneth Breckner | James Shay, Rebecca Martin |
| My Dad, Carol Reinecke | Our God, Kimberly or Robert Cropp | Karen Moelzel, Robert and Erna Smith |
| Monte Bluske, Cheryl Bluske | My Husband Larry, LaVon Bullard | My sister-n-law, Patty, Robert and Jan Wickstrom |
| Edmund and Jacob Skaw, David and Barbara Teslaw | Wilfred G. Burlingame, LaVonne Burlingame | Jim Coleman (2), Robert and Lorraine Soderquist |
| Harold and Hazel Licht, David Licht & Susan Kolpien | John and Kathy Ailie, Lee and Marsha Shelton | George and Ada Luck, Ronald Luck |
| John Schmidt, Dawn Schmidt | Randy and Terri Acker, Linda Bosinske | Thomas H. Boley, Rose Boley |
| Pierre George Pevan, Deborah Beecroft | Rev Horst Bruenjes, Margaret Benson | Brian Leciejewski, Sandy and Dale Pocernich |
| Friends and Family who passed away in 2014, Dennis and Karen Wagner | My mom Elsie, Margaret Kopp | John Shinners (2), Scott or Gina Kircher |
| Shirley Peterson, Donald and Judy Matchey | Martin Stephenson, Marion Stephenson | Christine Fuller, Sheila and Larry Barr |
| Howard A. Sturtz Sr, Dorothy or Howie Sturtz | Ray and Mary Lou Campbell, Mark and Roxy Campbell | Dean Mashek, Shirley Conley |
| Pat Fox, Douglas and Beverly England | Gordon and Harriet Hong, Mark or Pamela Nix | Chad Corbin, Susan Corbin |
| Brothers Norman and Victor Hanson, Eleanor Christianson | Jesus Christ, Marlys Larson | Sally Ann Shaw, Teresa Parsens |
| John Foust, Ellie Toycen | Leonard Grecco, Martha Grecco | Jake Mikkel Brown, Vicki Iverson |
| Dianne Rhein, Emma O'Brien | Ernest and Carmela Rizzato, Mary A. Rizzato | All who support Hope Gospel Mission, Virginia Howard |
| Wayne Harris, Faye Harris | Mom, Dad, Bernard and Rosa Linda, Mary Petuck | Everyone at the Mission, Virginia Howard |
| Alice Sauder, Fred Sauder | Octavia and Edmund Piotrowski, Mary Piotrowski | Lynn J. Geissler, Virginia M. Geissler |
| Jesus Christ, Gail Gunderson | David Baus, Mary Pustejovsky | V. Brandow, Warren and Sandra Peterson |
| Our parents, my brother and grandparents, Gary and Kathi Bauer | James and Alma McCabe, Meg and Craig Schultz | Marvin Franz, Wayne Franz |
| Leslie and Viola Broberg, Henry and Sharon Schank | In memory of our parents; in honor of our families, Mr. & Mrs Marvin Piwoni | Pearl Norris, William Norris |
| Dick Cable, Jack and Carol Bartingale | | Thane Joos and Chester Quale, Winnifred Joos |


Thank you to the Arnold and Lois Domer Foundation for your grants that help the people we serve.