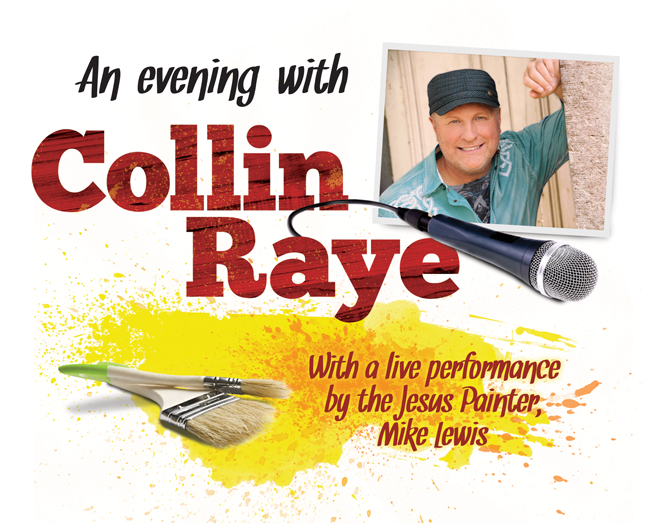 Join us for an evening with Collin Raye, platinum-selling country music artist. There will also be an appearance by Mike Lewis, the Jesus Painter.
Tickets are $36 each. This is a benefit concert for Hope Gospel Mission.
When: Sunday, February 22, 2015 at 6:00 PM
Where: Eau Claire State Theater, 316 Eau Claire Street
Collin Raye
Between 1991 and 2007, Raye charted 30 singles on the U.S. country charts; he has also charted twice on the Adult Contemporary format as a duet partner on two Jim Brickman songs. Four of Raye's singles have reached Number One on the Billboard country music charts: 1992's "Love, Me" and "In This Life", 1994's "My Kind of Girl", and 1998's "I Can Still Feel You". He has also recorded a total of eleven studio albums, counting a Christmas album and a compilation of lullabies, in addition to releasing a Greatest Hits compilation, a live album, and a live CD/DVD package. His most recent album, Never Going Back, was released via Saguaro Road Records on April 28, 2009. Visit www.collinraye.com for more.
The Jesus Painter
Also appearing is the Jesus Painter, Mike Lewis. Mike brings faith to life in living color through live painting performances, artistic workshops and training the next generation of artists. Visit www.jesuspainter.com for more info.