Hope Gospel Mission's Spring 2014 Newsletter

Today a 31 year old man finds himself in a place of love and joy, something that he hasn't had for most of his life. Jarred is a resident at Hope Gospel Mission and has been with the Mission for the past three months. His story is one that involves drugs and months on the street; now his story also involves a life-changing encounter with the Lord.
Jarred has lived in Wisconsin his whole life. His mother has always played a role in his life; however, his father was an alcoholic. As Jarred graduated from high school he found himself with the wrong crowd, a crowd that looked to drugs for their comfort. For Jarred drug use became a way of life. It was all he knew. That way of life eventually found him living out of his truck and sleeping on the streets or on friends' couches for six months of his life, feeling trapped with nowhere to go.
By God's grace, Jarred was taken in by a church that he occasionally attended. Regardless of what he looked like or what his story was, the people of this church showed him love. After a while, Jarred realized how tired he was of his life. He knew there had to be something more. That's when he asked God for forgiveness for his sins and took the opportunity to be baptized as a way of publicly showing his new-found faith in God. He was a brand new man!
After three weeks of living in a hotel (Thanks to the financial help of his church and Jarred's mother), Jarred was able to come to Hope Gospel Mission to continue his recovery and his journey with the Lord.
The Lord took Jarred from a place of finding a temporary, destructive satisfaction in the highs of drugs to a place where he now has a bright hope for a future and a lasting relationship with the living God.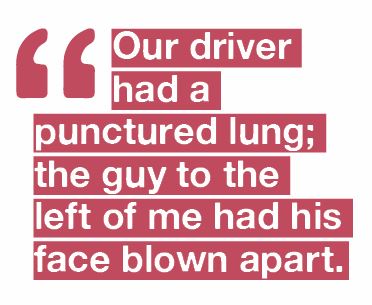 Through the relationships he's formed at the Mission and at his church, Jarred has found, for the first time in his life, a loving community that accepts him for who he is. When Jarred was homeless, he was surrounded by people who didn't genuinely care about his wellbeing. Now Jarred is in constant community with staff and residents who encourage and build each other up.
After seven years of struggling to get on his feet, Jarred can praise God for the simple things, like running water. The many things Jarred experienced in his life have shaped him into a man with great potential and passion. He is a man who now has perspective; he's seen how God can take the weakest point in someone's life and turn it out around to be the point where God does his best work. Jarred's relationship with the Lord is just beginning. He says, "I'm moving forward, it's the most progress I've done in years!"

Story By Rachel Debner, Stewardship Intern.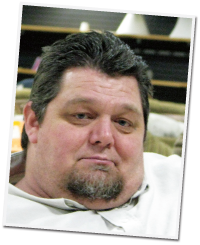 I was a meth addict for 20 years. I quit that seven years ago, but as soon as I quit that I started drinking real heavy and for the past seven years all I've been doing is drinking. And it just got worse and worse until right before I came to the Mission. I was planning on attempting suicide by drinking myself to death.
My family and I left Wyoming looking for work. We were going to North Dakota. We got there and there were no places to live. There were plenty jobs for me but I said "Let's just keep travelling east." I had never heard of Eau Claire. Never heard of Hope Gospel Mission. My wife was worried about me and my drinking so once we got here she found the Hope program for me and ever since then I've been here. I'm going on five months.
When I first got here I didn't realize how much it was going to change my life. It dramatically changed my life. I can walk around a lot better, I've lost weight, I've met a lot of new friends, and new family.
I have two adult kids that weren't in my life until a little over a year ago. My daughter got on Facebook and found me. And I've had a relationship with them, but you know my drinking was in the way and I was very abusive to my son, so it got out of hand and I just don't want to be that person I was before. So I want to be a better person for my kids and my granddaughter. I've got a granddaughter now and my mom is finally proud of me, she's never been proud of me until now so it feels good.
When I got here, I didn't expect the people to be so receptive to me. You know, I feel like I'm somebody around all my brothers and around everybody here. I just feel like a person. Before, I didn't leave in front of my TV because I was so embarrassed about my size. Everyone here just look past it.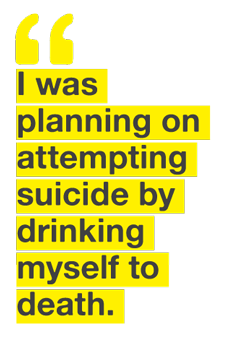 And it's genuine, it's not fake. And I have smiled before, but now my smile is even genuine. And I'm happy, I'm really happy! And that's by the grace of God—not by me, it's by God. I was looking for God before I came to the Mission, but I never really found him until I got to Hope. I had always heard about him. I had tried getting into God before, but I wasn't really ready all the way, it was just thinking "Ah, okay, he's there, yeah, I believe in him." But now I really, really believe in him.
My next step in the program is to get more involved in the Bible. When I came to the Solomon Learning Center (Education center for residents) I had all these different areas that I could have started and I went right to the Emmaus Course. The Emmaus course is 12 different books that we read and it takes you through the Bible. It tells you more about the Bible, more about Jesus, and it don't just tell you about him you get involved in it and you answer the questions it helps build your relationship with God and put a foundation of truth in your life.
I'm looking forward to a better life and an eternal life. Before I never even knew what eternal life meant, you know, I was like "I can't live forever." Now I know what it means to be at peace with our Father.
I'm going to stay in Eau Claire continue to build my relationship with my church. I would really love to stay involved with Hope. I just love this place, I love the people around here. It's just awesome, I mean, it's not fast, it's slow and people take time. The people ain't fake.
To guys coming into the program I would say: if you're coming in here be ready because it's going to change your life. And it's going to be a good change. When you come here it might be a little hard, but it's going to be worth it. It's totally worth it.




Every month, we celebrate the achievements that the men and women in our programs have been making in our recovery programming. We invite you to join us on the last Friday of every month at 6:00 pm at the Men's Shelter for a free meal and the chance to meet our staff, residents, and volunteers.
We recently asked Brad and John, two of the men in our recovery programming, about what these celebration events mean to them. Each of them recently moved from the first phase of the program, called SaFE (Stability & Foundational Education), into the second phase, called Work Readiness.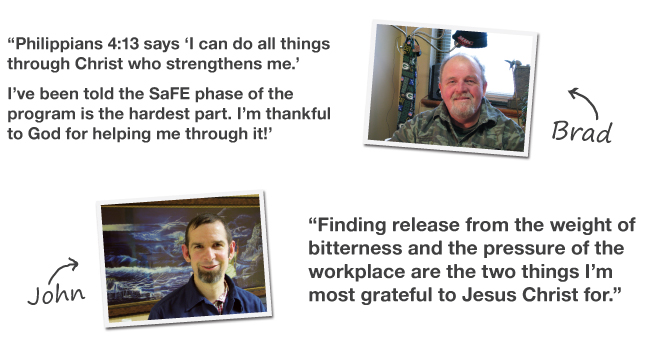 Funding for home and programming to help families in need;

For God to provide us a transitional house for women;

For men and women in need to come to us for help;

For volunteers to prepare meals for the residents in the Ruth House and Men's Shelter;

For residents to adjust well to the necessary changes they are making in their lives as they seek freedom from addictions or homelessness;

For our team at Hope Gospel Mission and all of their intentional efforts to keep this kingdom-principle ministry full of life.
Those Who Gave In Honor Or In Memory of A Loved One
Persons being honored are listed first.
| | | |
| --- | --- | --- |
| Gary Bailey, Susan Fox | Earl Gilles, Lorraine Gilles | Lincoln (Lonnie) Lokrantz, Dale & Barbara Shiffer |
| Rudy & Sally Bautch, Sherry M. Pabst | Clarence "Buzz" Hoffman, Jr, Richard & Bonnie Zinsli | Lincoln (Lonnie) Lokrantz, Dona M. Shoemaker |
| Doris Bell, Marko Hanson | Clarence Hoffman, Sr, Richard & Bonnie Zinsli | Lincoln (Lonnie) Lokrantz, Rita Veitch |
| Wilfred G. Burlingame, LaVonne Burlingame | Ethel Keil, Gloria Budik | Kenneth & Margaret Mayer, Carol Pickerign |
| Charlotte Cartwright, Sellers Smart Network, Inc. | Lincoln (Lonnie) Lokrantz, Thomas & Barbara Anderson | My divorced parents, Paul & Carol Kellner |
| Marvin Cartwright, Sellers Smart Network, Inc. | Lincoln (Lonnie) Lokrantz, Anna Bowe | Kayla Marie Olson, Jordan Schwartz |
| Dad & all good fathers, Raymond Nawrocki | Lincoln (Lonnie) Lokrantz, Normetta Hurlburt | Lea Rae Pastorello (3), Samuel Pastorello |
| James M. Dahl, Barbara Dahl | Lincoln (Lonnie) Lokrantz, Audrey Larson | Viola Qualheim, Eileen Griese |
| John & Elvera Dale, John H. Dale | Lincoln (Lonnie) Lokrantz, Roger or Mardi Lebeis | Julie S., Edith M. Hackbarth |
| Dr. Tom Doyle, Dolores Rabe | Lincoln (Lonnie) Lokrantz, Amy Lokrantz | Elmer & Janet Sabol, Cindy & Ralph Melgard |
| Gladys Flory, Susan Fox | Lincoln (Lonnie) Lokrantz, Mark Lokrantz | Paul Schumacher, Barbara Schumacher |
| Ed & Edith Freeman, Cindy & Vernon Freeman | Lincoln (Lonnie) Lokrantz, Valerie Peterson | Mary Jane Tollefson, Tom & Bonnie Johnson |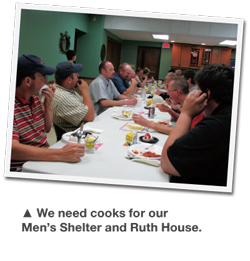 "For my children and I, volunteering at the Hope Gospel Mission's men's home has been a life changing experience.
I wanted to teach my children that we can use any opportunity, no matter how small, to show Christ's love to others. Cooking for the guys taught us to work as a team, and reminded us that our focus was meant to be on serving those around us.
We quickly learned that the men at the shelter are no different from the people we would meet anywhere else. They have shown us such kindness and appreciation for the smallest things. We look forward to seeing them and talking with them, and truly consider them to be our friends. We wanted to give something back, to serve others, but instead we feel we have been given a gift, and treasure the friendships we have with both clients and staff." —Melissa L. & Family
April is National Volunteer Month, so we're giving a big "THANKS" to all of our volunteers. Your help is making a difference in the lives of our residents and many people in our community.
If you're interested in volunteering with us, please click here to see available openings or call Kyle, our Volunteer Coordinator, at 715-450-2571.