Patricia wanted to see her son...
Special Easter Letter from Sandi Polzin, Hope Gospel Mission's Executive Director
Happy Easter! For me and my family, this season means we're thinking about the death and resurrection of Jesus.
I always think it's amazing that while we were still sinners, Christ died for us. He didn't wait for us to do good works first or earn our way into his love. He knew we couldn't come to God on our own because of our sin, so he died on the cross to pay for all of our sin. Then he rose three days later so that anyone who turns to him and accepts his sacrifice can have a relationship with God forever.
God loves us. That's why we serve. Let me share a recent story:
By the time Patricia called the Ruth House, our home for women, she had already been through many broken relationships. Her 8 year old son lived in Appleton, but because of her addictions she didn't have custody of him. She didn't have a home or a bed. She was sleeping on the couches of friends or acquaintances. She couldn't find work. Because she didn't have work, she couldn't afford to visit her son 3 ½ hours away. She was stuck.
DeAnn, our intake specialist, answered Patricia's phone call and set up a time to meet with her at the Ruth House. Patricia is just one of many women and men calling us or visiting us every month who need deep levels of help. That means that they need more than a meal or clean clothes or a bed. They need a calm, quiet space to heal from addictions. They need counseling. They need love.
DeAnn met with Patricia and set her up with her own room at the Ruth House. She joined the rest of our women that evening for a full meal cooked by a volunteer. She got a new set of clean clothes from the Bargain Center. She was able to wash up and get a good night's rest. She started her job search again. Believe it or not, she found full time work within three days! She'll be able to save her income so she'll be ready to move closer to her young son in Appleton.
Patricia told DeAnn that she had wanted to get to Appleton right away, but that there wasn't anything like Hope Gospel Mission there. Patricia is very glad for the help she's getting here. Your gift provides meals, shelter, counseling and more to the women like Patricia in our healing programs.
Click here to give online and help someone like Patricia with food, shelter, clothing, and compassion.
Rob is a man helped at our men's shelter:
Rob is originally from out west. He was a meth addict for many years, then seven years ago he gave it up but then turned to alcohol.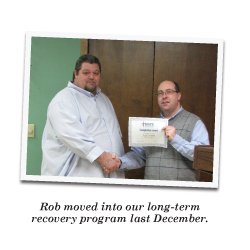 He and his family had been traveling east, looking for work but finding nothing. He had health complications and required emergency surgery once they arrived in our area. Rob said that because he didn't have anything to live for anymore, he had been planning to drink himself to death.
After his operation, however, he found Hope Gospel Mission. He's been in our programs for a few months now, steadily improving his health and excited for the changes he's seen in his life (We plan to share more of his story in the future).
Many of the men and women in our programs tell us "I would have died had I not found Hope Gospel Mission." And because we have seen the destruction that drugs, alcohol, and other addictions cause, we know they're not joking. That's how your support through prayer and financial gifts is making a difference!
From the first hot meal to the moment our residents graduate with a job, home, and a supportive community, your gift helps our men and women receive life-changing, compassionate care.
During this Easter season, when we remember God's love for us and all that he's given to us, will you remember the homeless among us with your gift and prayers?
Serving with you,


Sandi Polzin
Executive Director
PS: We'll be hosting our Easter dinner on Saturday, April 19 from 5:00 pm to 7:00 pm at 8 South Farwell St. We expect our biggest turnout ever for this meal. Your gift will help us cover the cost of food and other items we need to provide over 300 meals. And we invite you to join us as we open our doors to the entire community in celebration of the hope we have in Jesus' resurrection. Have a happy Easter!